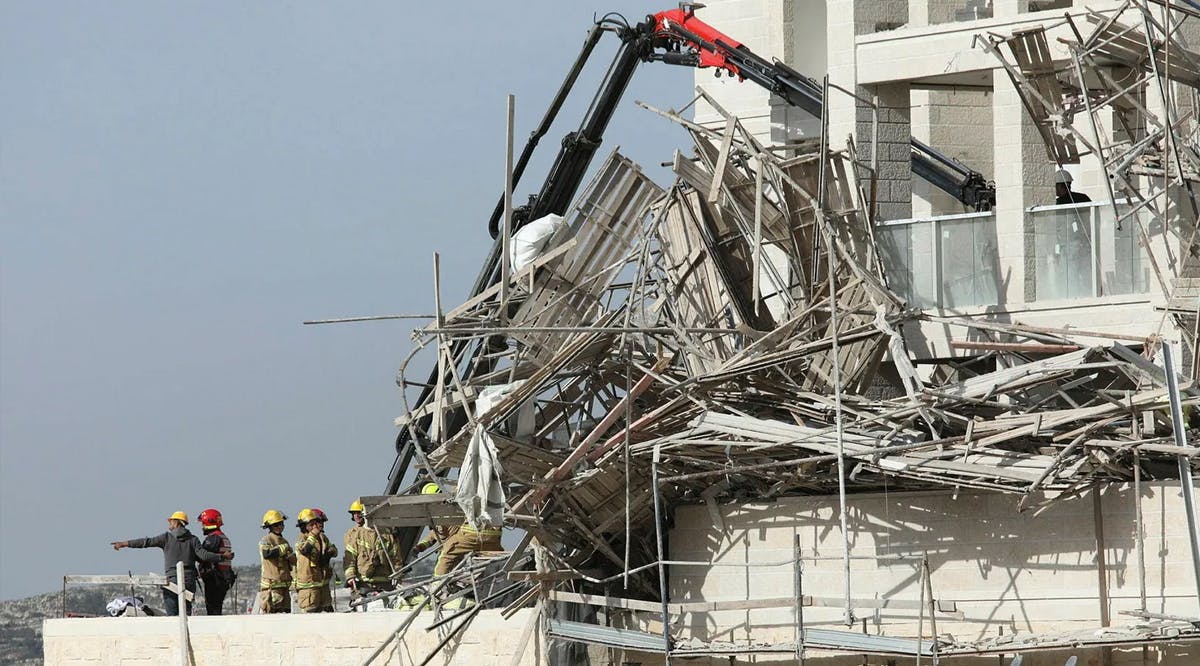 12-story Scaffolding Collapses in Jerusalem area, Killing Two
Two construction workers were killed and another person was moderately injured after a 12-story building collapsed in Givat Ze'ev near Jerusalem on Monday, December 12.
The three were trapped under the rubble and eventually pulled out by fire and rescue services. Among them, a 35-year-old man was found dead and brought out from under the rubble, while another man was seriously injured.
After prolonged rescue efforts, medics were forced to determine the death of a 32-year-old man who was pulled out and taken to Hadassah-University Medical Center in Jerusalem's Mount Scopus.
The two casualties were later identified as Haitham Mahmoud Hamamera, a resident of the Palestinian village of Husan near Bethlehem, and Muhammad Ibrahim al-Quaisi. Three suspects have already been detained for questioning on Monday evening, police said.
State Comptroller Matanyahu Englman reported just a few months ago in May that the state only collected 5% of the fines for safety violations and filed only eight indictments out of 72 fatal accidents in the construction industry.
According to the comptroller, the number of fatalities in work accidents in Israel is twice the average in EU countries, a ratio of 11 per hundred thousand people in Jerusalem, compared to five fatalities in Europe. (JPost / VFI News)
"God, we ask that you protect your people from work accidents, and that you give us the means so that we can avoid fatalities in the future."
The articles included in this publication do not necessarily reflect the views or opinions of Vision for Israel. We try to provide accurate reporting on news pertinent to Israel, the Middle East, the diaspora, and Jewish issues around the world—and we hope that you find it both informative and useful for intercessory prayer.