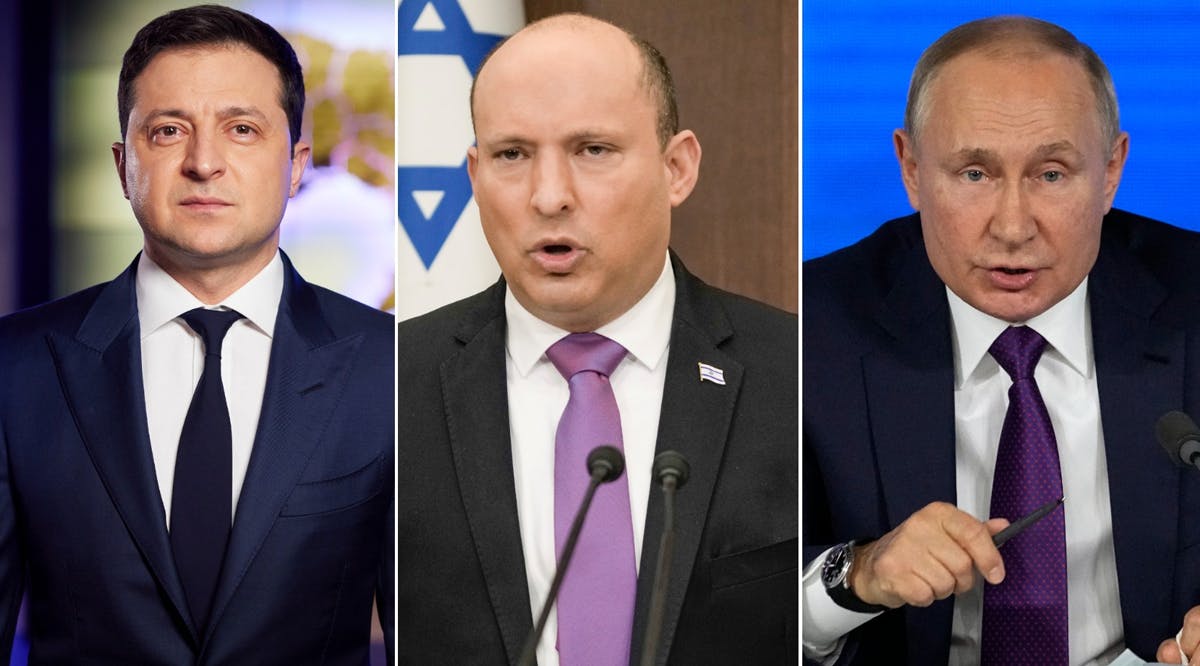 Bennett Concludes Meeting with Putin, Speaks with Zelensky
Prime Minister Naftali Bennett met with Russian President Vladimir Putin in Moscow for three hours on Saturday, March 5, in an apparent attempt to negotiate an end to the war in Ukraine.
Bennett and Putin discussed the war in Ukraine, including the situation of Israelis and Jewish communities as a result of the conflict, a diplomatic source said.
Bennett informed Ukrainian President Volodymyr Zelensky in advance of the meeting with Putin, and called him before departing Moscow. Bennett also spoke with French President Emmanuel Macron.
Bennett flew to Berlin after the meeting with Putin, to have dinner with German Chancellor Olaf Scholz. The two leaders spoke for an hour, discussing a number of issues including the Russia-Ukraine War.
The prime minister has twice spoken with Putin and Zelensky previously, since Russia invaded Ukraine.
Zelensky has asked Bennett to try to mediate between the sides, an offer that Putin rebuffed last year, but did not reject last week when Bennett brought it up again.
Bennett coordinated his trip to Moscow in advance with the US, France and Germany – all parties to the Iran talks. Bennett spoke with French President Emmanuel Macron and may visit Paris after Berlin, KAN reported. Turkey was also updated, as Bennett's flight route was over its territory.
In addition, Putin and Bennett discussed the Iran talks, with the latter emphasizing that Israel opposes a return to the 2015 nuclear deal, which is the aim of the negotiations in Vienna.
Putin and Bennett agreed to continue the deconfliction mechanism in Syria. Jerusalem coordinates with Moscow before airstrikes on Iranian targets in Syria, where the Russian Army is the dominant force.
Since Russia invaded Ukraine, Jerusalem has been trying to balance the national security importance of coordination with Moscow with Israel's strongest strategic alliance with the US, and support for democracy and international order.
Israel condemned Russia's invasion of Ukraine through Foreign Minister Yair Lapid and a vote in the UN General Assembly, but Bennett has been reticent to say anything about Russia.
In his recent statements, he has expressed support for the Ukrainian people and called for negotiations.
The prime minister was the first leader of a democracy to meet with Putin since Russia invaded Ukraine 10 days prior. (JPost / VFI News)
"God, we ask that you work with our leaders and instill honesty, integrity, and compassion into their hearts. May you guide them to peace."
The articles included in this publication do not necessarily reflect the views or opinions of Vision for Israel. We try to provide accurate reporting on news pertinent to Israel, the Middle East, the diaspora, and Jewish issues around the world—and we hope that you find it both informative and useful for intercessory prayer.