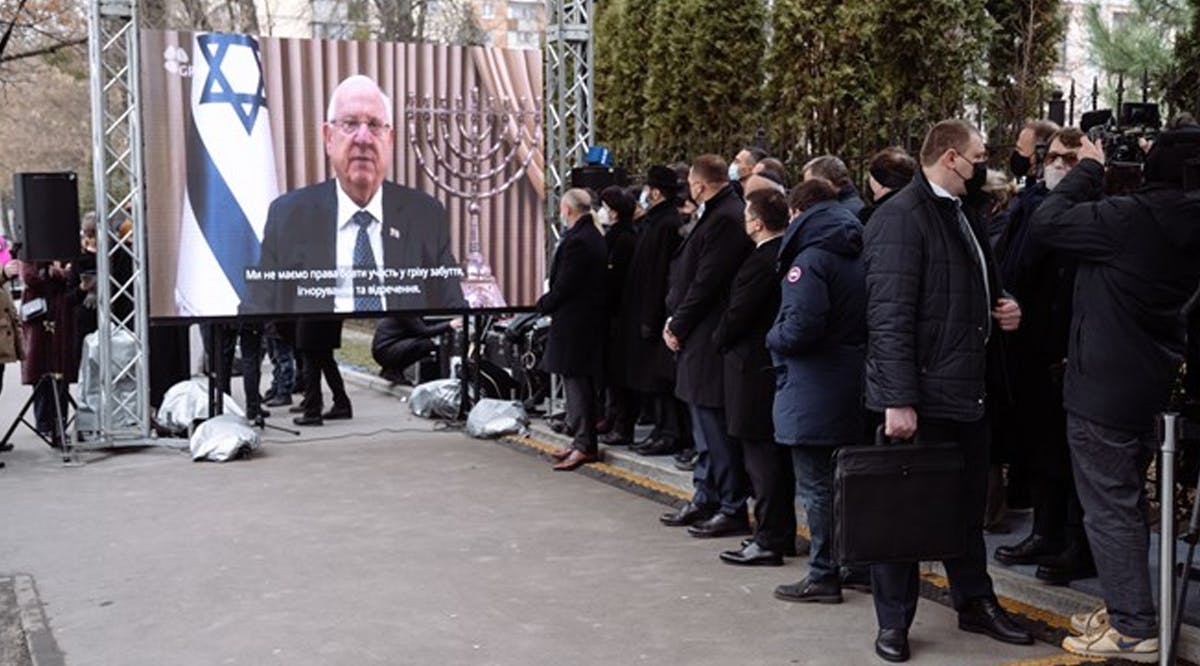 Ukraine's President Zelensky Unveils New Babyn Yar Monument
The President of Ukraine Volodymyr Zelensky unveiled a new monument commemorating the Babyn Yar massacre on Wednesday, January 27. At the ceremony, marking International Holocaust Remembrance Day and the start of eightieth-year commemorations of the massacre, messages of support and appreciation were broadcast from international leaders, including Israel's President Reuven Rivlin.
The monument, titled "A Glimpse into the Past" was commissioned by the Babyn Yar Holocaust Memorial Center (BYHMC) and created by prominent Ukrainian artist and architect Anna Kamyshan. It includes a tree with broken branches, as a metaphor for a life cut short.
At both ends of the tree stands untreated stone boulders. Each one includes a viewfinder through which can be seen pictures taken by the German photographer and propagandist Johannes Hähle in the aftermath of the Babyn Yar massacre. The stone boulders stand at the exact spot where the original photographs were taken, pinpointed by researchers at BYHMC. (INN / VFI News)
"I am the resurrection and the life. Whoever believes in me, though he die, yet shall he live, and everyone who lives and believes in me shall never die..." - John 11:25-26