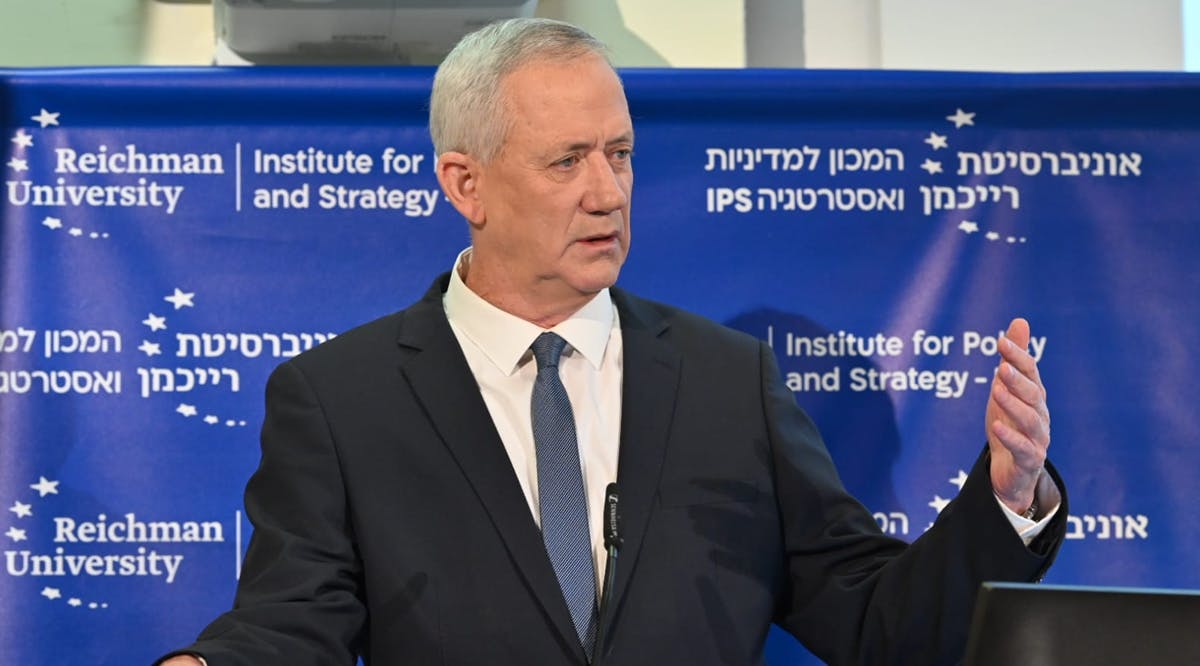 Iran Weeks Away from Having Enough Fissile Material for First Atomic Weapon
Israeli Defense Minister Benny Gantz warned Tuesday morning, May 17, that Tehran is just weeks away from being able to produce sufficient fissile material necessary for a nuclear weapon.
Speaking at the 'A New Global Order' conference being held at Reichman University in Herzliya a day before his trip to Washington, Gantz said Iran's nuclear program is making significant progress both qualitatively and quantitatively.
"Iran continues to accumulate irreversible knowledge and experience in the development, research, production, and operation of advanced centrifuges. It stands just a few weeks away from accumulating fissile material that will be sufficient for a first bomb, holds 60 kilograms of enriched material at 60%, produces metallic uranium at the enrichment level of 20%, and prevents the IAEA from accessing its facilities."
"Even today, Iran is making an effort to complete the production and installation of 1,000 advanced IR6 centrifuges at its nuclear facilities, including a new facility being built at an underground site near Natanz. Even now, Iran is working to complete the manufacture and installation of 1,000 new advanced IR6 centrifuges at its nuclear facilities, including at its new underground facility near Natanz."
He added: "We will continue the political effort to strengthen our relations with our neighbors in the region and our partners around the world. This while being willing to make efforts to shrink the conflict and strive for political arrangements between us and the Palestinians, which, even if they seem distant, are a strategic need." (JPost / VFI News)
"God, we ask that You keep your people safe from the threat of nuclear weapons and that You would stop the works of the enemy."
The articles included in this publication do not necessarily reflect the views or opinions of Vision for Israel. We try to provide accurate reporting on news pertinent to Israel, the Middle East, the diaspora, and Jewish issues around the world—and we hope that you find it both informative and useful for intercessory prayer.