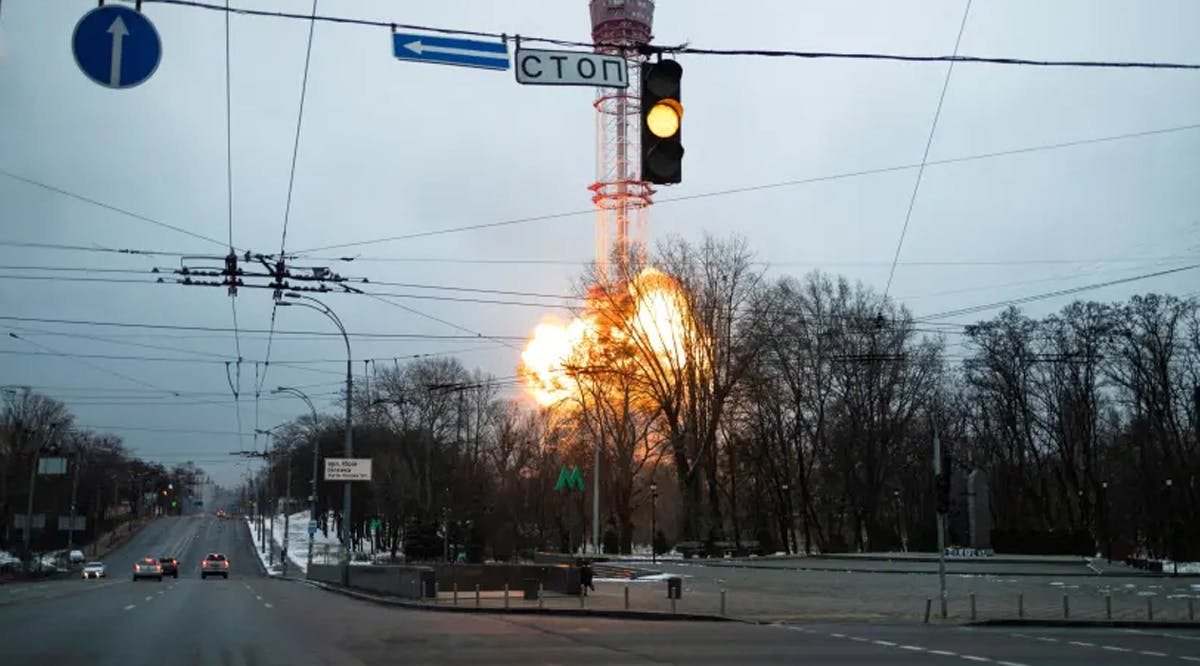 Russia Strikes Babyn Yar Holocaust Memorial Site in Ukraine
Russian missiles and shells struck the site of Babyn Yar, where tens of thousands of Jews were massacred during the Holocaust, during Moscow's assault on Kyiv on Tuesday, March 1.
Ukrainian President Volodymyr Zelenksyy took to Twitter to condemn the attack.
"To the world: what is the point of saying 'never again' for 80 years, if the world stays silent when a bomb drops on the same site of Babyn Yar?" Zelenskyy wrote. "At least 5 killed. History repeating…"
Andriy Yermak, Zelenskyy's chief of staff, tweeted: "These villains are killing Holocaust victims for the second time."
Ukraine State Emergency Services released photos and video of the fire and a collapsed structure at the Babyn Yar memorial and the adjacent Jewish cemetery.
Natan Sharansky, former head of the Jewish Agency and current chairman of the Babyn Yar Holocaust Memorial Advisory Board, slammed the attack and Russian President Vladimir Putin.
"Putin seeking to distort and manipulate the Holocaust to justify an illegal invasion of a sovereign democratic country is utterly abhorrent," Sharansky stated. "It is symbolic that he starts attacking Kyiv by bombing the site of the Babyn Yar, the biggest of Nazi massacres."
Sharansky said that the memorial is meant "to preserve historical memory following decades of Soviet suppression of historical truth so that the evils of the past can never be repeated. We must not allow the truth to – once again – become the victim of war."
The memorial site's leadership condemned Putin's use of language related to the Holocaust to justify his invasion of Ukraine: "As experts who work with Holocaust research and commemoration, we are deeply outraged that the aggressor country has used genocidal rhetoric to justify its shameful actions," they said. "Russia has vulgarly instrumentalized anti-Nazi rhetoric, and is trying to take on the role of a fighter against Nazism." (JPost / VFI News)
"God, we ask that the horrors of the Holocaust never be forgotten or repeated, and that this war comes to a swift end."
The articles included in this publication do not necessarily reflect the views or opinions of Vision for Israel. We try to provide accurate reporting on news pertinent to Israel, the Middle East, the diaspora, and Jewish issues around the world—and we hope that you find it both informative and useful for intercessory prayer.