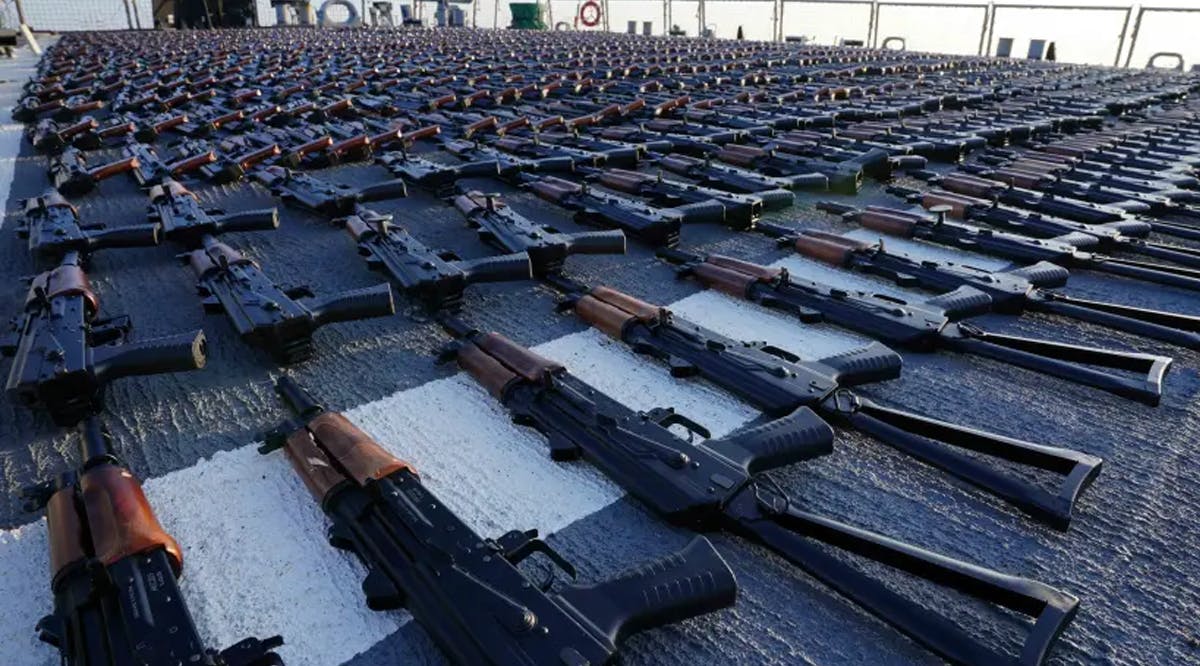 US Navy Intercepts Over 2,000 Assault Rifles Headed from Iran to Yemen
The US Navy intercepted over 2,000 assault rifles being carried on a fishing vessel from Iran to Yemen on January 6, the US 5th Fleet announced on Tuesday, January 10.
A US Navy team from the USS Chinook patrol coastal ship discovered and seized the weapons with support from the USS Monsoon, and guided-missile destroyer USS The Sullivans.
The vessel was sailing on a route historically used to traffic illicit cargo to the Houthi terrorist group in Yemen, and was crewed by six Yemeni nationals.
The direct or indirect supply of weapons to the Houthis violates UN Security Council Resolution 2216 and international law.
"This shipment is part of a continued pattern of destabilizing activity from Iran," said Vice Adm. Brad Cooper, commander of US Naval Forces Central Command, US 5th Fleet and Combined Maritime Forces. "These threats have our attention. We remain vigilant in detecting any maritime activity that impedes freedom of navigation or compromises regional security."
Two other fishing vessels smuggling weapons and materials for weapons to the Houthis from Iran were intercepted by the US 5th Fleet in the Gulf of Oman in the past two months. (JPost / VFI News)
"God, we thank You for helping authorities be alert in regards to imminent dangers, and prevent the smuggling of weapons, as well as potential attacks across the region."
The articles included in this publication do not necessarily reflect the views or opinions of Vision for Israel. We try to provide accurate reporting on news pertinent to Israel, the Middle East, the diaspora, and Jewish issues around the world—and we hope that you find it both informative and useful for intercessory prayer.