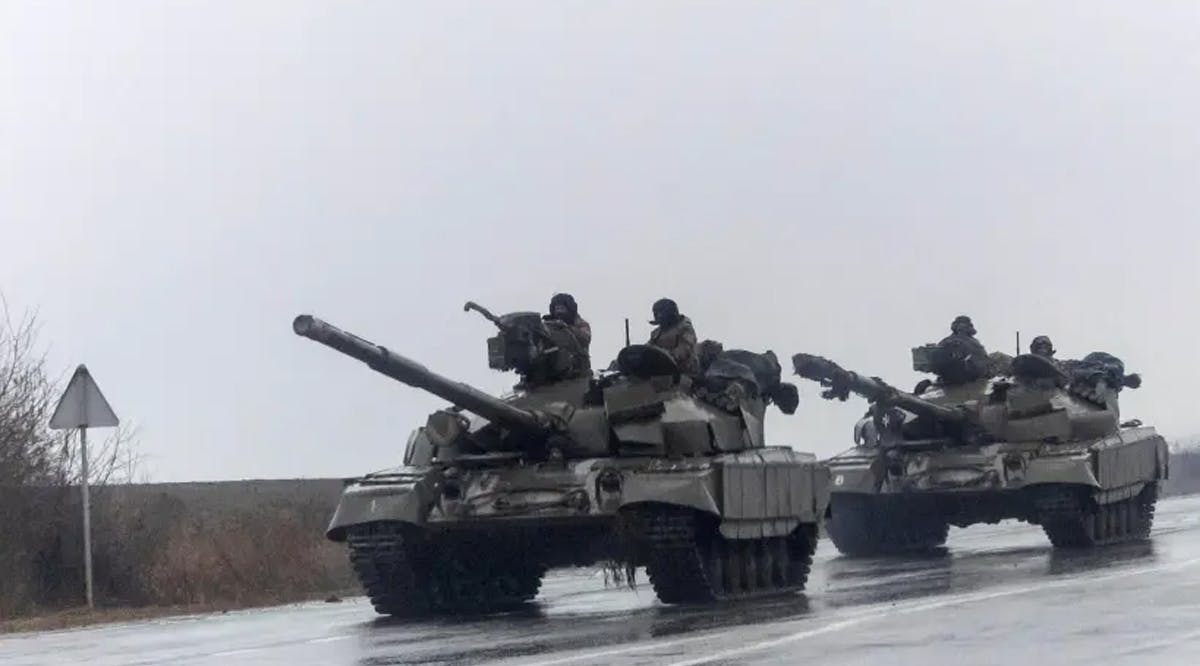 Zelensky Calls for General Mobilization as Russian Forces Advance
Ukrainian President Volodymyr Zelenskiy signed a decree on the general mobilization of the population on Thursday night, February 24, in the wake of Russia's invasion. The decree stated that mobilization is to be carried out within 90 days.
He also vowed on Friday to stay in Kyiv as his troops battled Russian invaders who are advancing toward the capital in the biggest attack on a European state since World War Two.
The Russian 58th Brigade was held off in the north of Ukraine where battles were being held in the Peremoha regions, while in the south, Ukrainian forces retook a captured bridge near Kherson along the Dnieper river.
Moscow captured the Chernobyl nuclear power plant in northern Ukraine on Thursday after Russian troops crossed into the country from Belarus, entering through the Chernobyl nuclear disaster zone, and have now advanced closer to Kyiv, a US defense official said. People working at the power plant were taken hostage.
Russian forces have also taken over Zmiinyi Island, a Ukrainian island in the Black Sea, Ukraine's National Police said late on Thursday. Ukraine forces are still battling to keep hold of the Gosmotel military airport, near capital Kyiv, as two Russian helicopters were shot down by Ukrainian forces during sustained attacks on Gostomel, Ukraine's Armed Forces said.
A Russian Antonov AN-26 military transport aircraft crashed in Russia's Voronezh region on Thursday night, killing the entire crew, Interfax reported citing military officials. Russian military officials have reportedly said the crash could have been caused by a technical failure. The Ukrainian military added that dozens of Russian armored equipment units were destroyed. A Russian platoon of Russia's 74th motor rifles brigade has surrendered to Ukrainian forces near Chernihiv in northern Ukraine, according to the Ukrainian Armed Forces.
Ukrainian president Volodymyr Zelenskiy said prior to the capture of Chernobyl that Ukrainian forces are "giving their lives to prevent the capture of the nuclear disaster zone, as heavy fighting in eastern Ukrainian cities continued after Russian President Vladimir Putin authorized a "special military operation" in the early hours of Thursday morning.
Earlier, four ballistic missiles were launched from the territory of Belarus into Ukraine. The mayor of Ukraine's capital Kyiv ordered a curfew on Thursday in comments shown on television.
Elsewhere, parts of Ukraine's southern Kherson region were no longer under Kyiv's control, the regional administration said. In addition, Russian troops have taken over the Kakhovka hydroelectric power station built on the Dnieper River, Ukraine's energy minister said. The outskirts of Ukraine's port city of Mariupol came under heavy fire and hundreds of explosions have been observed there, a diplomatic source told Reuters on Thursday, as Ukrainian forces battled Russian invaders on three sides. (JPost/ VFI News)
"God, we ask that you give Your people strength and safety in Ukraine, and prevent the world from going to war."
The articles included in this publication do not necessarily reflect the views or opinions of Vision for Israel. We try to provide accurate reporting on news pertinent to Israel, the Middle East, the diaspora, and Jewish issues around the world—and we hope that you find it both informative and useful for intercessory prayer.