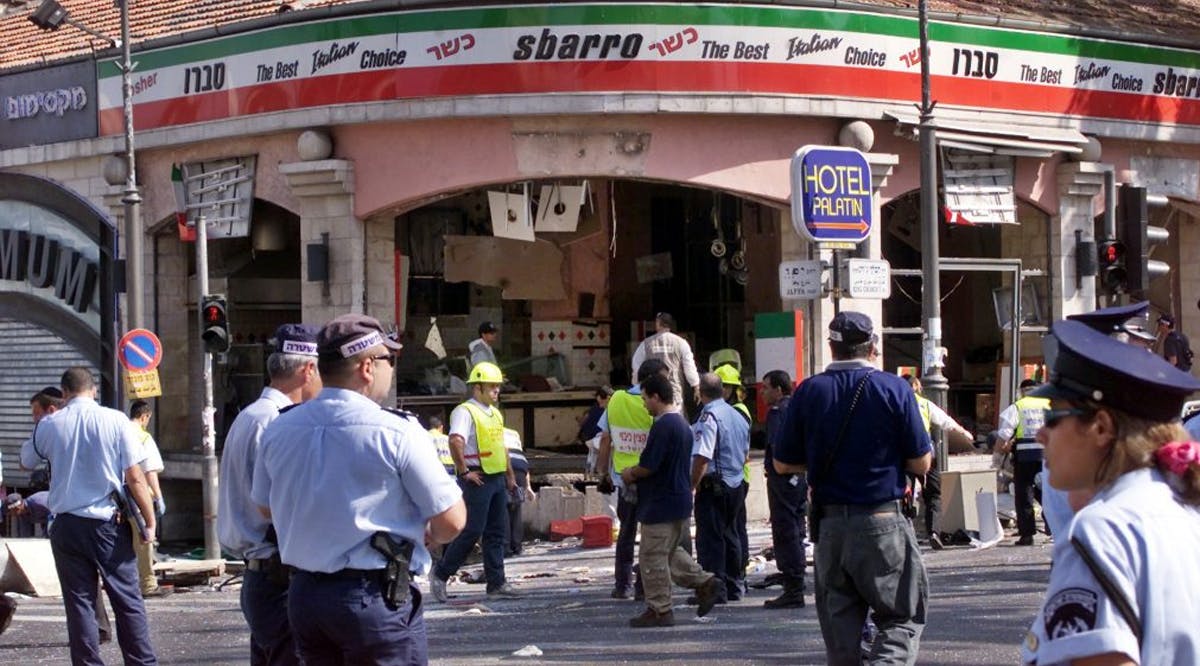 20 Years Ago, a Hamas Terrorist Blew up a Pizzeria and Killed 15 People
Israelis and Americans mourn the 15 people, including seven children, who were killed 20 years ago during a terror attack. Hamas had claimed responsibility for the bombing.
Sbarro, the pizza chain restaurant where the bomber, Izz al-Din Shuheil al-Masri, detonated his suicide vest, trended on Twitter as family members, friends, and government officials expressed their grief.
Al-Masri was aided by Ahlam Al-Tamimi, who remains most wanted by the FBI for her role in scouting out the pizzeria and guiding the human bomb to the selected location. Al-Tamimi was initially arrested and convicted in Israel for her involvement in the bombing but was released in a prisoner exchange.
One of the American victims, Malki Roth, was 15 years old.
"My daughter Malki was murdered as were 14 other innocents," her father, Arnold Roth, tweeted.
The other American victim, Shoshana Yehudit Greenbaum, was 31 years old and pregnant. Her unborn child also died. Moreover, 130 people were injured by the blast or shrapnel stored in the explosive device.
"There was a smell of explosives in the air and the patients arrived on stretchers directly from the site, because it was too close to even put them in ambulances. The initial moments were chaotic, it took some time before we were able to realize the extent of the catastrophe and that we were treating multiple siblings whose parents had been killed," Chana Smadja, an emergency room nurse, recalled in an interview with The Jerusalem Post. (DC / VFI News)
"The Lord is near to the brokenhearted and saves the crushed in spirit." - Psalm 34:18
"Lord, we pray that You comfort those who survived terror attacks and were left with wounded souls for the rest of their lives. And we pray that You would bring comfort to those who lost loved ones in this attack."