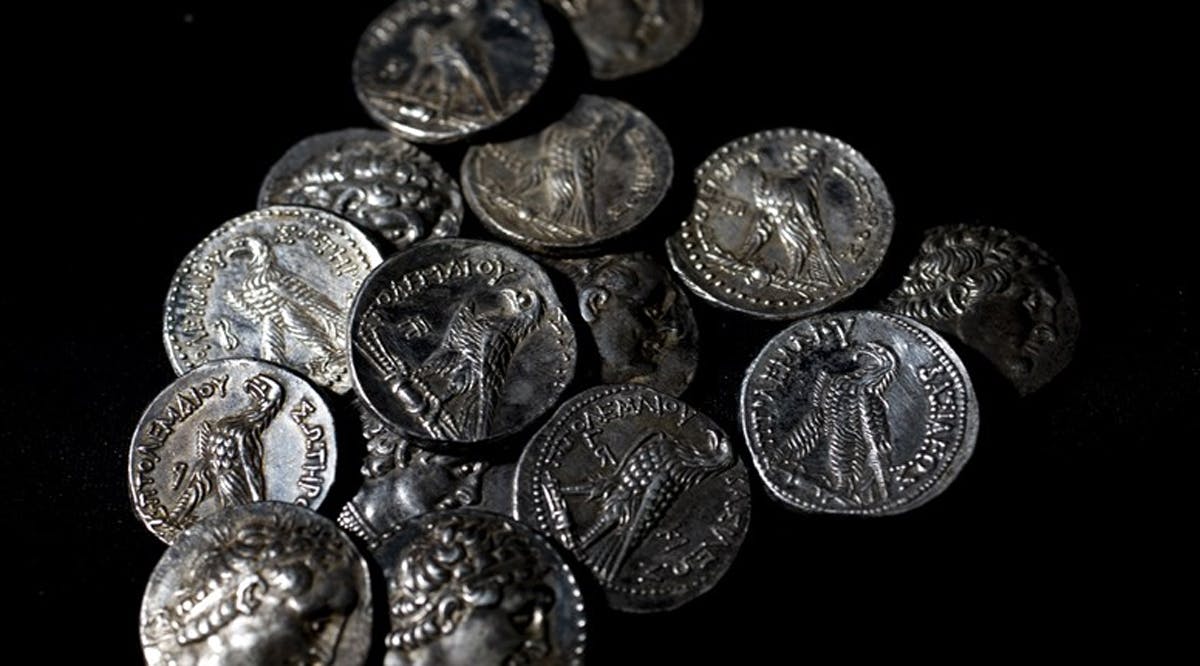 Evidence Unearthed in Judean Desert of Maccabean Revolt
Evidence for a dramatic moment in the history of the Jewish people was uncovered in the Judean Desert: A rare wooden box containing a small hoard of 15 silver coins, dated to the days leading up to the Maccabean Revolt.
The box was hidden in Muraba'at Cave in the Darageh Stream Nature Reserve about 2,200 years ago, and it was discovered in excavations carried out there last May.
The coin hoard has since been researched, and it will be exhibited to the public over Hanukkah in the Hasmonean Museum in Modi'in, in the context of Israel Heritage Week that takes place on Hanukkah.
Among the many finds, the unique lathe-turned wooden box was discovered in a crack in the cave. When the lid was removed, it turned out that the upper part of the box was full of packed earth and small stones. Below this earth layer, a large piece of purple woolen cloth was found, covering the 15 silver coins that were arranged with pieces of sheep's wool in the lower part of the box.
The coin hoard, cleaned in the Israel Antiquities Authority metal finds laboratory, comprised a homogeneous group of silver tetradrachma coins, minted by Ptolemy VI, King of Egypt.
The name "Shalmai" in Aramaic script was found secondarily incised on one of the coins. Based on the date of the latest coin in the hoard in 170 BCE, the year when the hoard was hidden can be fixed to the beginning of the Maccabean Revolt, and the war declared against Antiochos Epiphanes IV decrees against the Jewish religion, or to the events that led up to the Revolt.
According to Dr Eitan Klein, who studied the coins together with Dr. Gabriela Bijovsky, Israel Antiquities Authority numismatic expert, "This is an absolutely unique find, presented the first clear archaeological evidence that the Judean Desert caves played an active role as the stage of the activities of the Jewish rebels or the fugitives in the early days of the Maccabean Revolt, or the events that led up to them." (INN / VFI News)
The suggestions, opinions, and scripture references made by VFI News writers and editors are based on the best information received.

Want to see more from VFI? Follow us on Facebook! Our official Facebook name is Vision for Israel. Follow us there and please hit "like" if you like us.