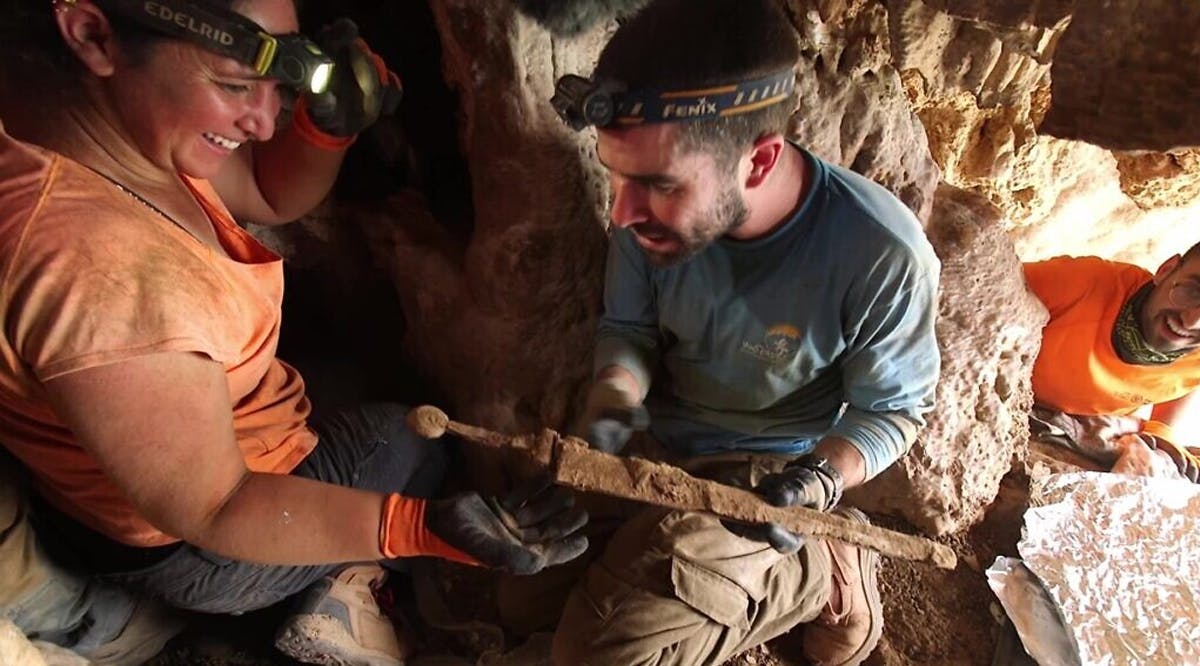 Four Roman Swords, Nearly 2,000 Years Old, Found in Judean Desert
A sensational find in the Judean Desert: a cache of four 1,900-year-old, excellently preserved Roman swords and a shafted weapon were discovered in a crevice in a cave in the Ein Gedi Nature Reserve. It appears that the weapons were hidden by the Judean rebels after they were seized from the Roman army as booty.
"Finding a single sword is rare—so four? It's a dream! We rubbed our eyes to believe it," say the researchers. The rare weapons were exhibited for the first time at a press conference that took place Wednesday morning, September 6, with Eli Escusido, the Director of the Israel Antiquities Authority, and the researchers.
The weapons were discovered in a small hidden cave located in an area of isolated and inaccessible cliffs north of Ein Gedi, in the Judean Desert Nature Reserve, under the jurisdiction of the National Parks Authority.
The swords were exceptionally well preserved, and three were found with the iron blade inside the wooden scabbards. Leather strips and wooden and metal finds belonging to the weapons were also found in the crevice.
The swords had well-fashioned handles made of wood or metal. The length of the blades of three swords was 60–65 cm, their dimensions identifying them as Roman spatha swords, and the fourth one was shorter with a 45 cm long blade, identified as a ring-pommel sword.
The swords were carefully removed from the crevice in the rock and transferred to the Israel Antiquities Authority climate-controlled laboratories for preservation and conservation. The initial examination of the assemblage confirmed that these were standard swords employed by the Roman soldiers stationed in Judea in the Roman period. (INN / VFI News)
The suggestions, opinions, and scripture references made by VFI News writers and editors are based on the best information received.

Want to see more from VFI? Follow us on Facebook: https://www.facebook.com/visionforisrael and hit "like" if you like us!