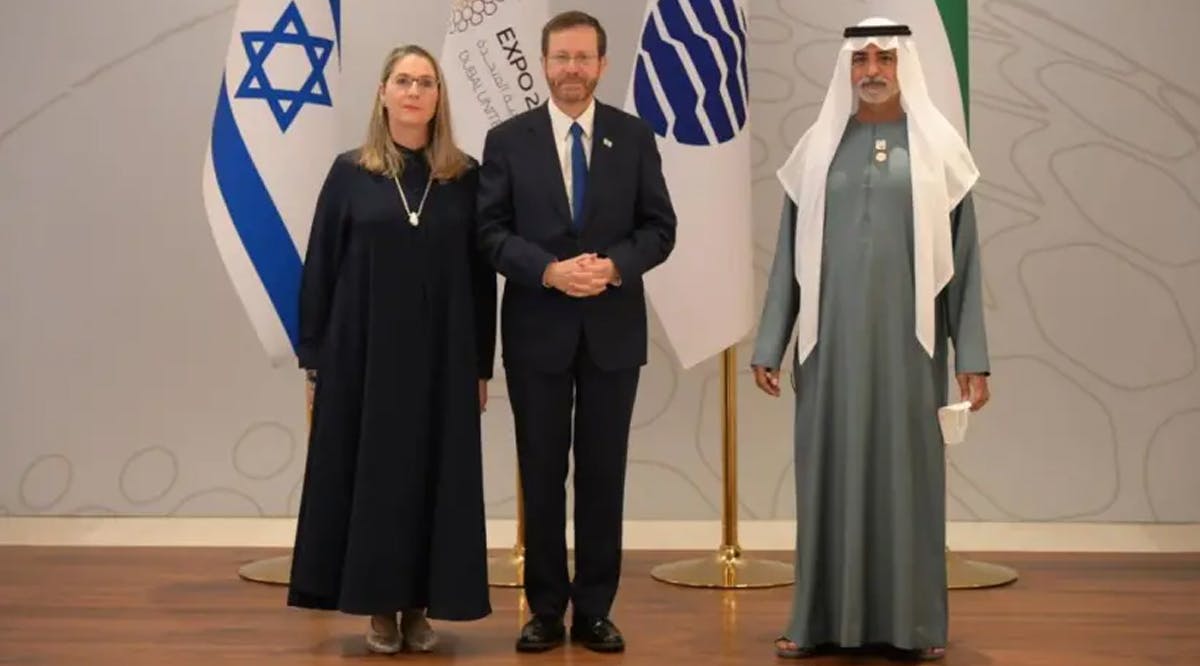 Herzog Opens Israel's National Day at Dubai Expo, Celebrates Israel-UAE Ties
"Expo 2020 Dubai is a reminder of what can be accomplished when we work together to break down borders by connecting minds and imagining a different future," President Isaac Herzog said Monday, January 31, as he launched Israel's national day at Expo 20 in Dubai, following a ceremonial welcome in the central plaza where "Hatikvah" was played.
Herzog reiterated the hope and belief he had expressed on Sunday in Abu Dhabi that other Arab states in the region will follow the UAE's lead and join the Abraham Accords. Expo 2020 Dubai is a huge achievement for all the participating nations and also a huge achievement for Dubai itself and its brave leaders, Herzog said, adding, "It is a remarkable celebration of each nation's unique identity."
Herzog said he was proud of Israel's contribution to the vision of a common future, as has been seen on display over the past several months both in the UAE and in Israel, where he said he had the honor to inaugurate the UAE Embassy in Tel Aviv. "Israel is a country in which obstacles become opportunities and where the impossible is a tantalizing challenge," Herzog said.
Sheikh Nahyan bin Mubarak Al Nahyan, the UAE's minister of tolerance and coexistence and commissioner-general of Expo 2020 Dubai, said: "Israel has much to offer on our global platform, and so we are pleased to have you at this engagement with us, at Expo 2020 Dubai. We are proud to host the first World Expo to be held in the Middle East, Africa and South Asia region and of our warm Emirati welcome to the whole world." (JPost / VFI News)
"God, we ask that You would help our leaders foster true, honest collaboration between Israel and other countries."