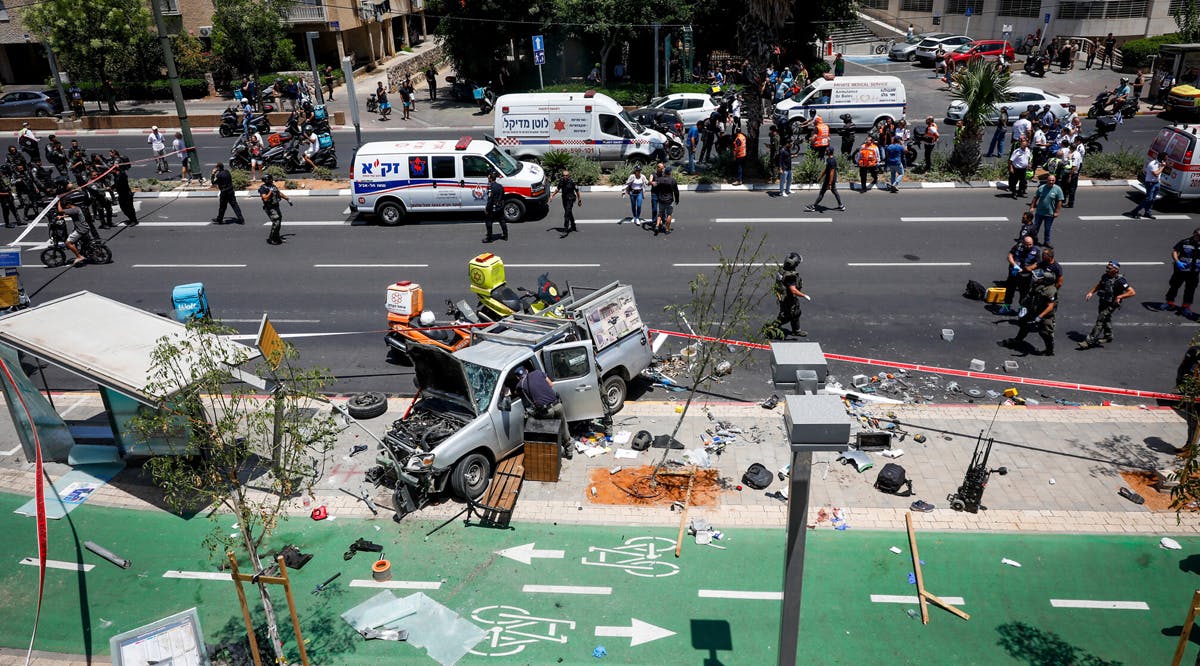 Car Ramming Terror Attack Wounds 9, Israeli Police Say
Multiple people were wounded in what is being described as a vehicular terror attack in Israel on Tuesday, July 4. A 23-year-old Palestinian man on Pinchas Rosen Street in Tel Aviv, drove his vehicle onto the sidewalk to strike bystanders. The assailant then exited the vehicle and brandished a knife, stabbing the victims, according to police.
"We understand that he was alone, and we have no doubt that this was an attack," said Tel Aviv Police District Commander Ami Eshed. "[Police] are taking action to find out if the assailant was accompanied by anyone else. This is a difficult event but currently, the situation is stable," the officer added.
Officials identified the assailant as Abed Khalila, reportedly from the Palestinian village of As-Samu, near Hebron, according to Israel's Shin Bet security services. He was reportedly shot and killed by a civilian bystander at the scene of the attack. Footage shared on social media showed the assailant dead at the scene.
Nine individuals suffered injuries, including one 46-year-old woman who was evacuated to a nearby hospital with severe stab wounds, according to British media.
Three injured individuals, aged 30, 66, and 76, are currently being treated for multiple injuries from the attack at Beilinson Hospital. Five injured individuals have arrived at Ichilov's trauma center and an injured woman in her 70s was referred to the emergency department of the Meir Medical Center in minor condition.
A Hamas statement praised the attack, calling it "Heroic," noting that it mourns one of its own, calling him a "Martyr fighter." An earlier Hamas statement called the attack the "first response" to Israeli military operations in the West Bank. (FN / VFI News)
"God, we pray for the wounded civilians from the terrorist attack. We ask that You give them a quick and painless recovery and that the terrorist organization behind their suffering will soon pay for all of its crimes."
The articles included in this publication do not necessarily reflect the views or opinions of Vision for Israel. We try to provide accurate reporting on news pertinent to Israel, the Middle East, the diaspora, and Jewish issues around the world—and we hope that you find it both informative and useful for intercessory prayer.