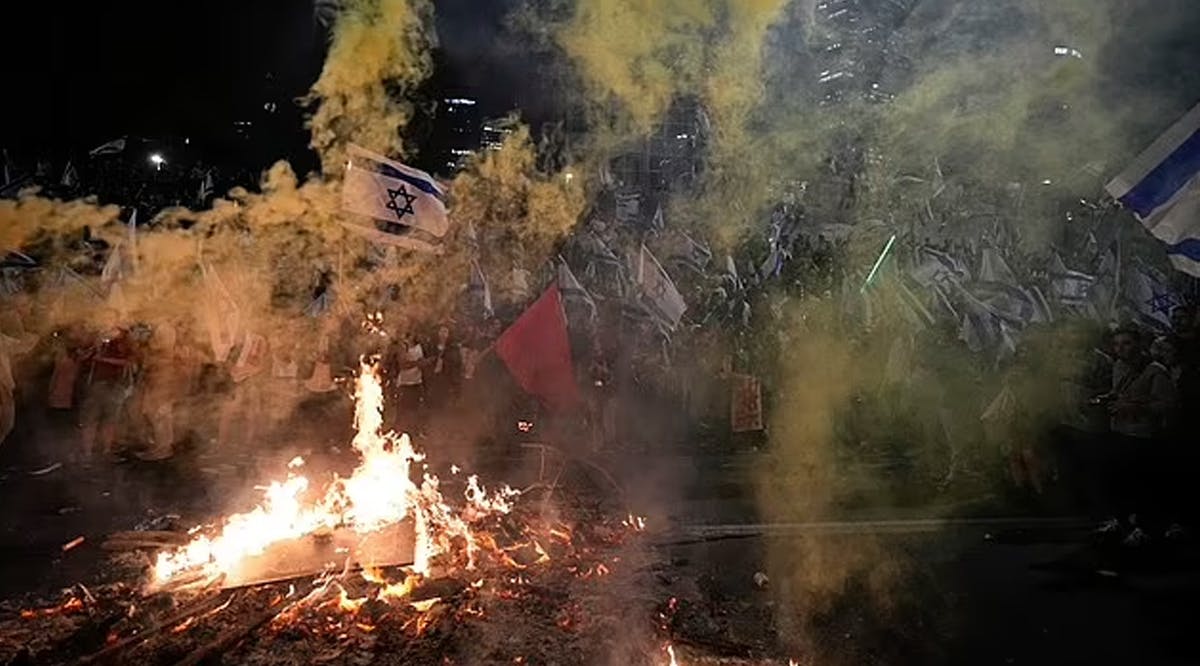 Chaos in Israel as Netanyahu Fires Minister: Tens of Thousands Protest in Tel Aviv
There were chaotic scenes in Israel on Sunday night, March 26, after Prime Minister Benjamin Netanyahu abruptly fired his Defense Minister just a day after he had called for an end to the PM's controversial judicial overhaul.
Tens of thousands of protesters took to the streets of Tel Aviv and blocked a main highway in front of the Ministry of Defense following the announcement before water cannons were deployed in Jerusalem against crowds.
The protesters transformed the Ayalon highway into a sea of blue-and-white Israeli flags and lit a large bonfire in the middle of the road. Demonstrations took place in Beersheba, Haifa, and Jerusalem.
The dismissal of the Defense Minister signaled that Netanyahu will move ahead this week with his judicial plan, which has sparked mass protests, angered military and business leaders, and raised concerns among Israel's allies.
The judicial plans include increasing sitting governments' and PMs' powers to overrule the Supreme Court and reduce the review of new laws - as well as giving the government ultimate control over all judiciary appointments. Defense Minister Yoav Gallant had been the first senior member of the ruling Likud party to speak out against the plan.
Hours after the defense minister's removal, a White House National Security spokesperson told Israeli media, "We are deeply concerned by the ongoing developments in Israel, which further underscore the urgent need for compromise." (DM / VFI News)
"God, we ask that Israel will be a peaceful and safe country at all times. We pray that Israelis will always be willing to treat each other with respect and that our leadership will put Israel's citizens' wellbeing as the top priority."
The articles included in this publication do not necessarily reflect the views or opinions of Vision for Israel. We try to provide accurate reporting on news pertinent to Israel, the Middle East, the diaspora, and Jewish issues around the world—and we hope that you find it both informative and useful for intercessory prayer.