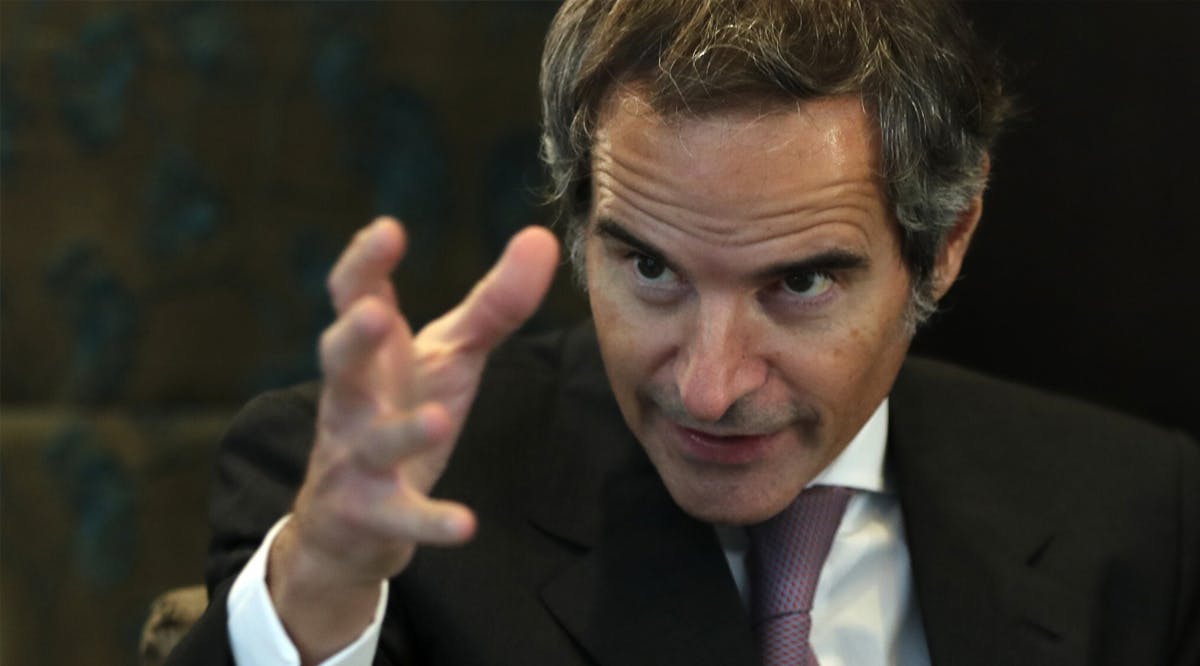 2015 Nuclear Deal No Longer Sufficient for Reality of Iran in 2022
The head of the United Nations nuclear watchdog warned Tuesday, December 14, that the restrictions faced by his inspectors in Iran threaten to give the world only a "very blurred image" of Tehran's program as it enriches uranium closer than ever to weapons-grade levels.
Speaking in a wide-ranging interview to The Associated Press, Rafael Mariano Grossi said he wanted to tell Iran that there was "no way around" his inspectors at the International Atomic Energy Agency if the Islamic Republic wanted to be "a respected country in the community of nations."
"We have to work together," Grossi said from a luxury hotel in Abu Dhabi, the capital of the United Arab Emirates, after he visited that country's first nuclear power plant. "They must work together. I will make sure they understand that in us they will have a partner."
Grossi's insistence that the Vienna-based International Atomic Energy Agency (IAEA) remained "an auditor" for the world came as negotiations faltered in Vienna to revive Tehran's tattered nuclear deal. Hours earlier, the chief of Iran's civilian nuclear program insisted his country would refuse the agency access to a sensitive centrifuge assembly plant.
That plant in Karaj came under what Iran describes as a sabotage attack in June. Tehran blamed the assault on Israel amid a widening regional shadow war since former United States President Donald Trump unilaterally withdrew America from Iran's landmark nuclear accord with world powers. Iran has since refused the IAEA access to replace cameras damaged in the incident.
Grossi dismissed as "simply absurd" an Iranian allegation that saboteurs used the IAEA's cameras in the attack on the Karaj centrifuge site. Tehran has offered no evidence to support the claim, though it's another sign of the friction between inspectors and Iran.
Since the nuclear deal's collapse, Tehran has started enriching uranium up to 60 percent purity — a short technical step from weapons-grade levels of 90%. The deal limited enrichment to 3.67%, enough to be used in a power plant. The nation's stockpile of enriched uranium grows every day far beyond the scope of the 2015 accord, which saw Tehran agree to limit its nuclear program in exchange for the lifting of economic sanctions. It also spins ever-more advanced centrifuges also barred by the deal.
Iran's mission to the United Nations did not immediately respond to a request for comment on Grossi's remarks.
In Vienna, however, anxiety is growing among European nations at the negotiating table. The US has remained outside of direct talks since abandoning the accord. (TOI / VFI News)
He shall judge between the nations, and shall decide disputes for many peoples; and they shall beat their swords into plowshares, and their spears into pruning hooks; nation shall not lift up sword against nation, neither shall they learn war anymore. - Isaiah 2:4