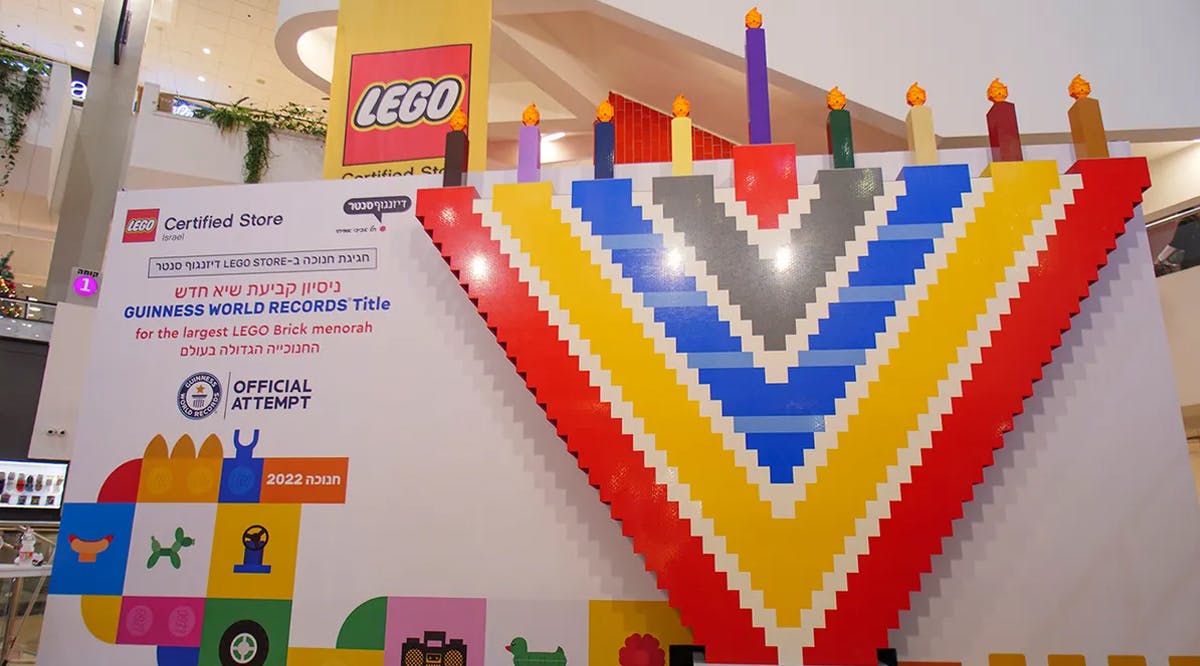 Hanukkah Menorah in Tel Aviv Breaks World Record for Largest Menorah Built of Legos
A Hanukkah menorah in Tel Aviv set a Guinness world record on Thursday, December 15, for the largest menorah built completely of LEGO blocks.
Amnon (Marc) Applbaum, a commercial real estate developer and engineer who was appointed by the project as a measurement specialist, said, "I hereby declare that this menorah beats the current Guinness Record for the largest LEGO brick menorah, which was 4 x 4 x 0.3 meters."
"I measured it to be 4.5 meters high, which is 14.7 feet by 4.4 meters wide." He added, "It was built out of more than 130,000 bricks with no adhesive or structural support beyond the magical power of the LEGO bricks themselves."
The holiday of Hanukkah is symbolized by the lighting of menorahs, the spinning of dreidels, the cooking of fried latkes and the exchanging of gifts.Jews in Israel and all over the world celebrate the eight nights of Hanukkah, also known as the Festival of Lights, to commemorate the miracles performed amid the Maccabean revolt against Israel's Greek king, who wished to limit their religious practices.
Yoav Gaon, CEO of Tor Group and LEGO Israel, said, "The LEGO values of creativity, imagination, learning, fun and quality were brought to life through the incredible event of creating the largest menorah from 130,000 LEGO bricks, as hundreds of kids, parents and grandparents attempted to break the Guinness record." (FN / VFI News)
"God, we are grateful for being able to celebrate and honor our roots, while establishing new traditions and connecting with our people worldwide"
The articles included in this publication do not necessarily reflect the views or opinions of Vision for Israel. We try to provide accurate reporting on news pertinent to Israel, the Middle East, the diaspora, and Jewish issues around the world—and we hope that you find it both informative and useful for intercessory prayer.