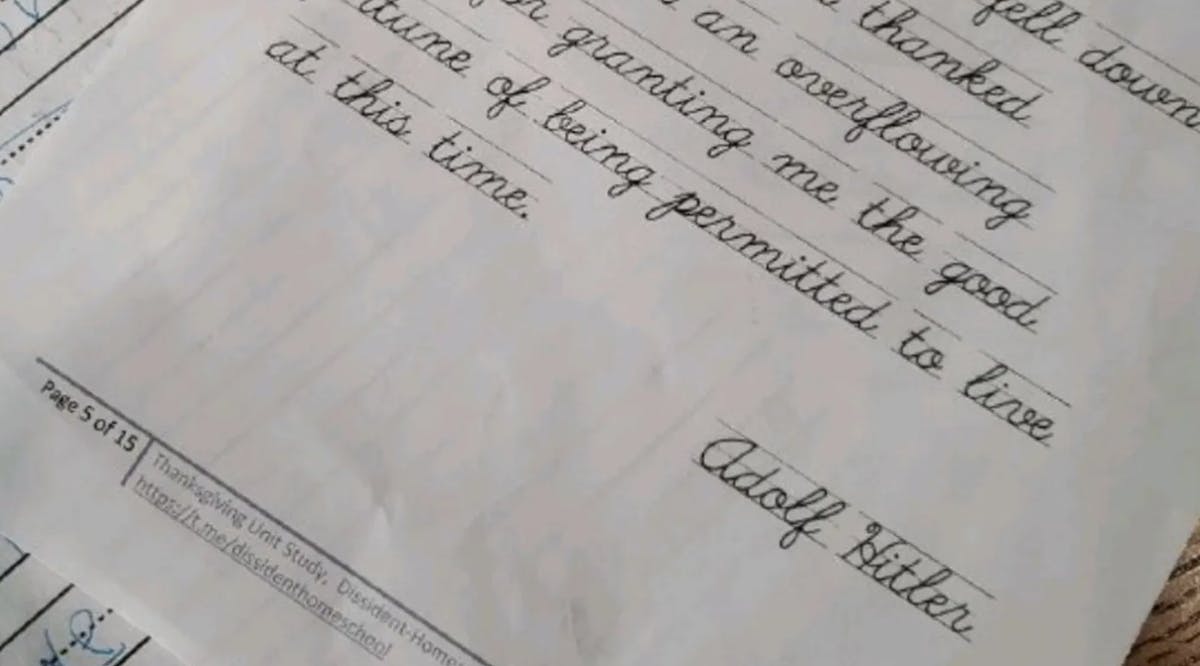 Ohio Is Investigating a Nazi Homeschooling Network that Teaches Children to Love Hitler
Ohio's department of education is investigating a homeschooling network that claims public schools are run by "Zionist scum," teaches kids to say "Sieg Heil" in class, and instructs fellow parents not to give their kids "Jewish media content."
These are the more than 2,500 members of the "Dissident Homeschool Network," a channel on the social network messaging app Telegram.
The "dissidents" are a group of Nazi parents who share homeschooling lesson plans, extolling the virtues of Hitler and white nationalism — while relying on a popular social media account run by a Jewish woman to provide ammunition for their hatred.
The founders of the group were recently unmasked by a hate group monitor as a couple in rural Upper Sandusky, Ohio. "We are so deeply invested into making sure that [our] child becomes a wonderful Nazi," the founder of Dissident Homeschool Network, who goes by the pseudonym "Mrs. Saxon," recently said on a neo-Nazi podcast to promote the group.
"There is absolutely no place for hate-filled, divisive and hurtful instruction in Ohio's schools, including our state's home-schooling community," Stephanie Siddens, the interim superintendent of public instruction at Ohio's education department, told media.
"I emphatically and categorically denounce the racist, anti-Semitic and fascist ideology and materials being circulated."
Ohio Governor Mike DeWine, along with Rep. Bob Latta, whose district encompasses Upper Sandusky, and Rep. Jim Jordan, all gave statements condemning the group. (JPost / VFI News)
"Surely wickedness burns like a fire; it consumes briers and thorns, it sets the forest thickets ablaze, so that it rolls upward in a column of smoke." - Isaiah 9:18