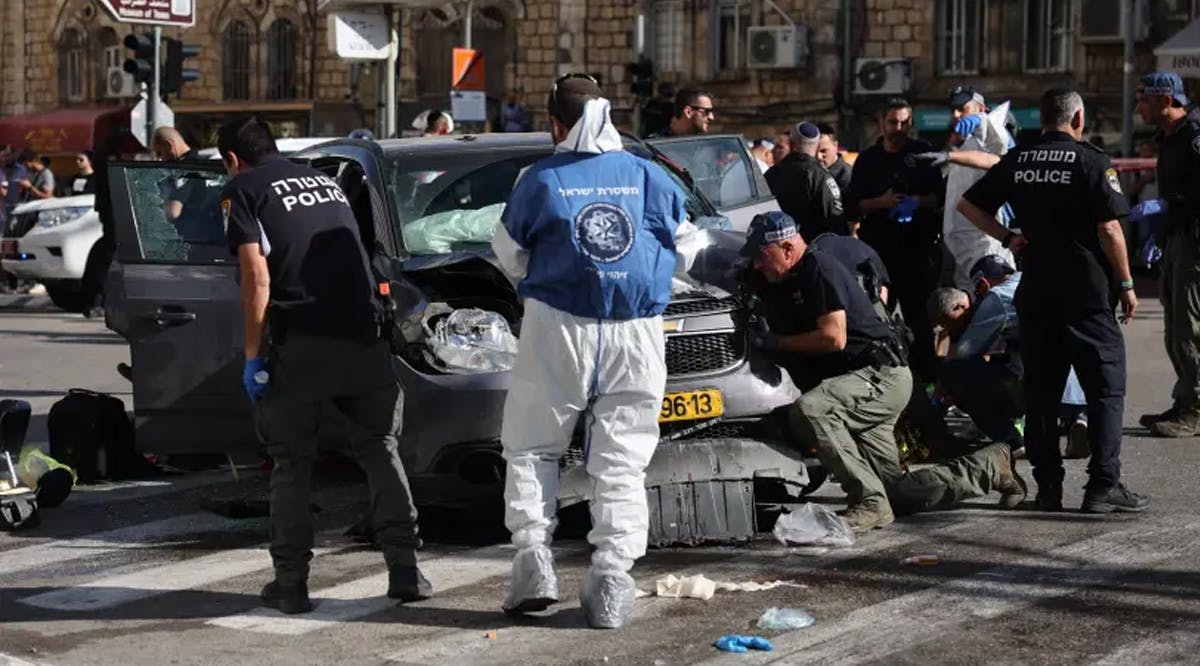 Jerusalem Terror Attack: Seven Wounded in Car Ramming, Terrorist Killed
Seven people were wounded in a terrorist car-ramming attack in Jerusalem on Monday, April 24. The victims include a man in his 70s who is in serious condition, a woman in her 30s and a man in his 50s in moderate condition, and two 25-year-old men who were lightly wounded.
The victims were taken to Shaare Zedek Medical Center and Hadassah University Medical Center. One of the victims was hospitalized due to shock, a Hadassah representative said.
The terrorist was identified as Hatem Abu Nijmeh, 39, of Beit Safafa in east Jerusalem. He was shot and killed by a civilian at the scene. Nijmeh was a married father of five who was unknown to security forces but reportedly had a history of mental illness.
The terrorist attack occurred in the area of Davidka Square about a block away from Mahaneh Yehuda Market. Nijmeh arrived at the intersection and sped up, deliberately hitting pedestrians, including people crossing the street, the police said. When he slowed down and then stopped, an armed civilian shot and killed him.
Prime Minister Benjamin Netanyahu, who spoke at a Remembrance Day ceremony in Jerusalem minutes after the attack took place, said it "reminds us that the State of Israel was bought with great suffering." (JPost / VFI News)
"God, we pray for the swift recovery of the seven victims from Monday's attack. Let us all hope that from now on, terrorists will be stopped before executing their horrifying plans."