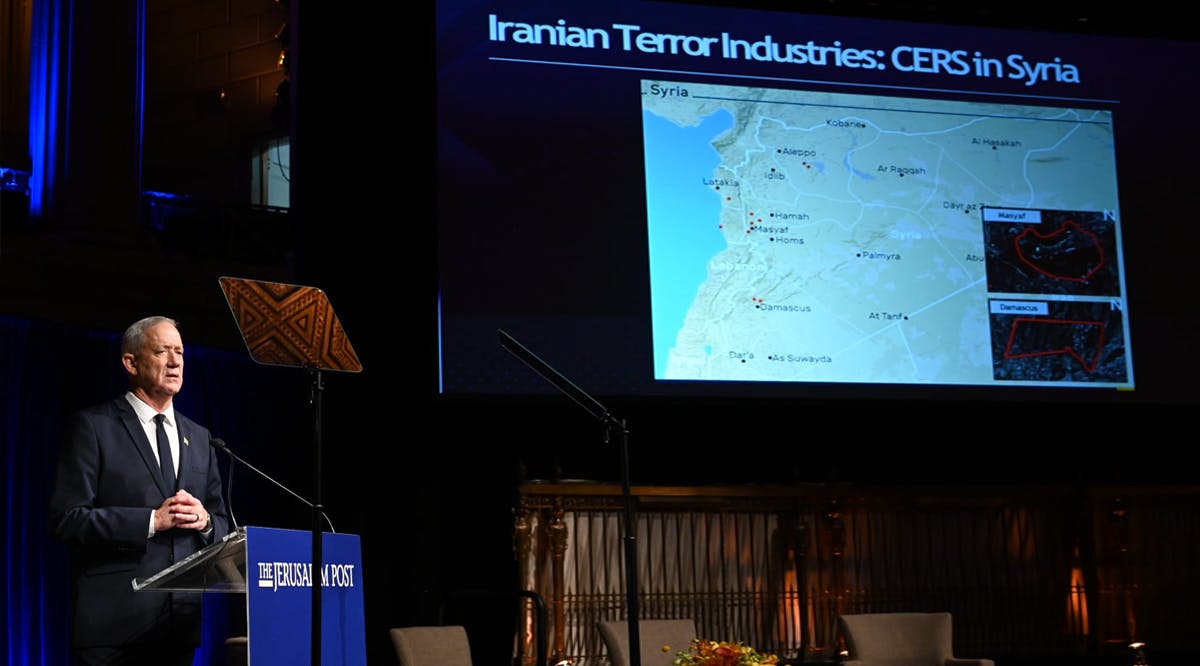 Gantz: Iran Converting Syrian Military Sites into Missile Factories
Defense Minister Benny Gantz on Monday, September 12, revealed a map of military facilities across Syria he alleged were used to manufacture advanced munitions for Iran and its terror proxies.
"Iran is building terror industries in Syria for its needs. Recently, it started building advanced industries in Yemen and Lebanon as well. This trend must be stopped," Gantz said in New York.
The remarks came amid an apparent uptick in airstrikes widely attributed to Israel in Syria.
Gantz pointed to the Scientific Studies and Research Center, known as CERS, which has a facility near the northwestern Syrian city of Masyaf long associated with the production of precision surface-to-surface missiles, including the process of casting solid rocket motors, as well as chemical weapons.
"The sites that I reveal to you on the map, and in particular the underground site in Masyaf where precision missiles are manufactured, constitute a significant potential threat to the region and to Israel," Gantz said, addressing a media conference. (TOI /VFI News)
"God, we ask that you protect us from the plots of the enemy, including nuclear weapons, slander, and any kind of hostilities."
The articles included in this publication do not necessarily reflect the views or opinions of Vision for Israel. We try to provide accurate reporting on news pertinent to Israel, the Middle East, the diaspora, and Jewish issues around the world—and we hope that you find it both informative and useful for intercessory prayer.