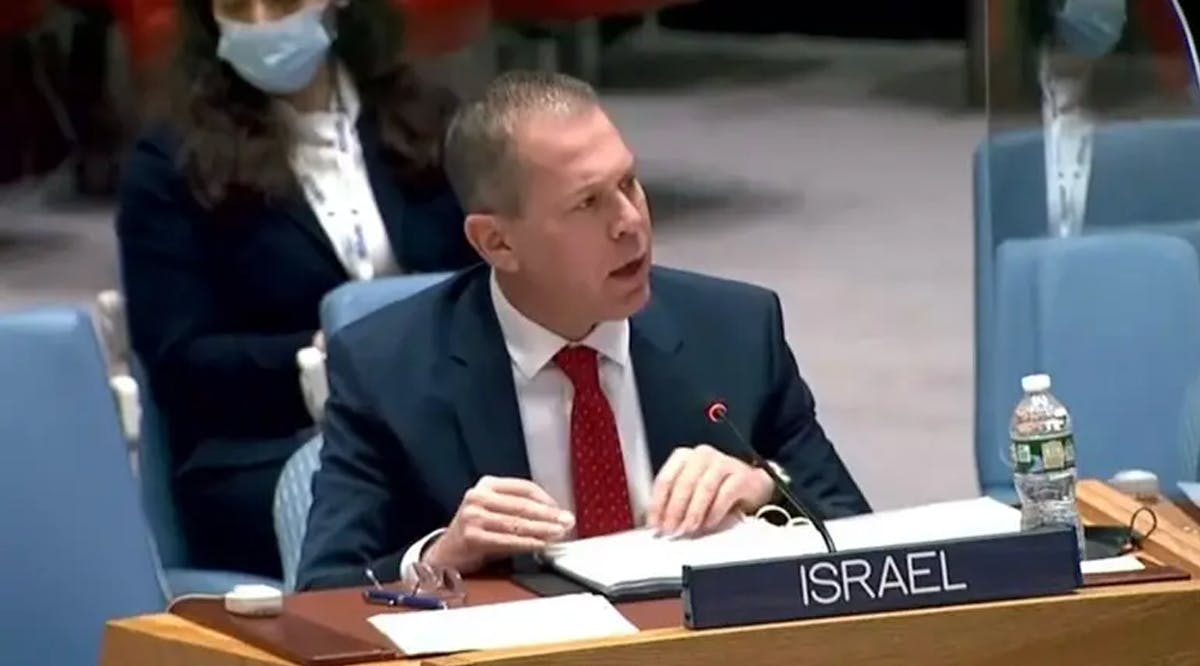 Amb. Erdan: Hamas Gunned Down Jewish Revelers Just Like Nazi Death Squads in the 1940s
Israel's Ambassador to the United Nations, Gilad Erdan, held a press conference at the UN on Sunday, October 8, ahead of the Security Council's meeting on the surprise Hamas terror attacks against Israel.
The Ambassador presented shocking photos and distressing videos of civilians who were murdered or kidnapped from their homes by Hamas, including children and the elderly. He emphasized that this is Israel's 9/11 and that from now on, nothing will be the same.
Ambassador Erdan said, "These animal-like terrorists broke into homes, gathered entire families into rooms, and shot them point blank. As if they were stomping on insects. Grandparents and the elderly, among them Holocaust survivors who endured the Nazis, were violently dragged from their homes, this time by Hamas, and taken into Gaza…. These are war crimes! Blatant documented war crimes!"
The Ambassador also referred to the massacre at the nature party near Gaza, saying, "These savages gunned down Jewish revelers just like Nazi death squads in the 1940s. Hundreds were butchered, their bodies mutilated and defiled. And those who survived were taken to Gaza."
The Ambassador made clear that he expects only one thing from the Council. "Hamas' war crimes must be unequivocally condemned. This unimaginable atrocity must be condemned. Israel must be given steadfast support to defend ourselves. To defend the free world." (INN / VFI News)
"But the cowardly, the unbelieving, the vile, the murderers, the sexually immoral, those who practice magic arts, the idolaters and all liars—they will be consigned to the fiery lake of burning sulfur. This is the second death." - Revelation 21:8
The suggestions, opinions, and scripture references made by VFI News writers and editors are based on the best information received.

Want to see more from VFI? Follow us on Facebook: https://www.facebook.com/visionforisrael and hit "like" if you like us!