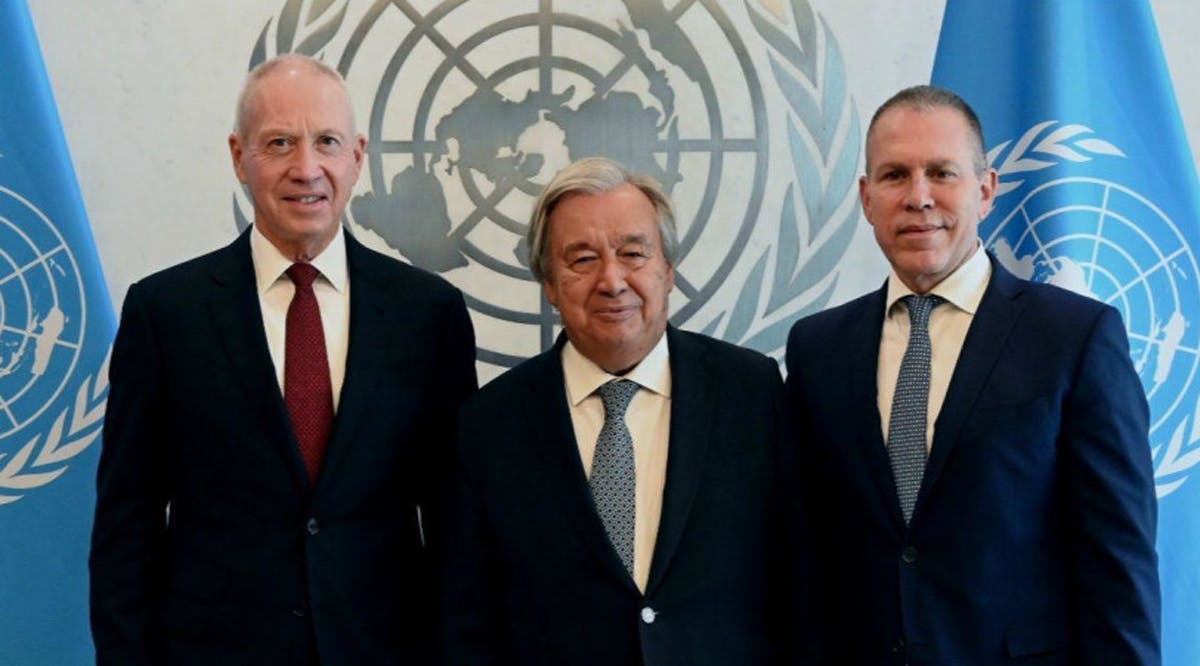 Iran Pushing Hezbollah to Launch Terror Attacks on Israel, Gallant Tells UN
Iran is pressing its proxy group Hezbollah to attack Israel along its northern border, Defense Minister Yoav Gallant told United Nations Secretary-General António Guterres, as he urged him to ensure that the organization's peacekeeping force is empowered to monitor the situation.
"The potential for escalation on the northern border is increasing following a blatant violation of Lebanon's sovereignty by Hezbollah's military build-up," Gallant said. "The UN must urgently intervene to reduce tensions by strengthening the freedom of movement of the UN Interim Force in Lebanon in the region, and implementing its mandate on the northern border," Gallant told Guterres.
Gallant pointed specifically to Hezbollah's breach of Israeli territory by placing a military tent there, and the establishment of dozens of other military compounds on Israel's northern border. There is also an increase in Hezbollah patrols in that area, he said.
In his conversation with Guterres, Gallant also underscored the problem of Iran's nuclear ambition and its growing involvement in financing and arming terrorism and militant attacks against Israel. He also spoke with Guterres about the importance of a UN condemnation of Iran's activities against Israel. "Israel will act against any violation of sovereignty and threat to the lives of its citizens," the defense minister said.
The two men met as the United Nations Security Council was set on Wednesday, August 30, to renew the annual mandate of its 10,500-member peacekeeping force on that border, known as UNIFIL. (JPost / VFI News)
"God, we ask that You protect Israeli citizens from foreign enemies and malevolent forces that try to bring about Israel's demise. We thank You for gifting us outspoken leaders who strive for our security and we pray that other world leaders will soon take a stance and defend Israel with all their might as well."
The articles included in this publication do not necessarily reflect the views or opinions of Vision for Israel. We try to provide accurate reporting on news pertinent to Israel, the Middle East, the diaspora, and Jewish issues around the world—and we hope that you find it both informative and useful for intercessory prayer.