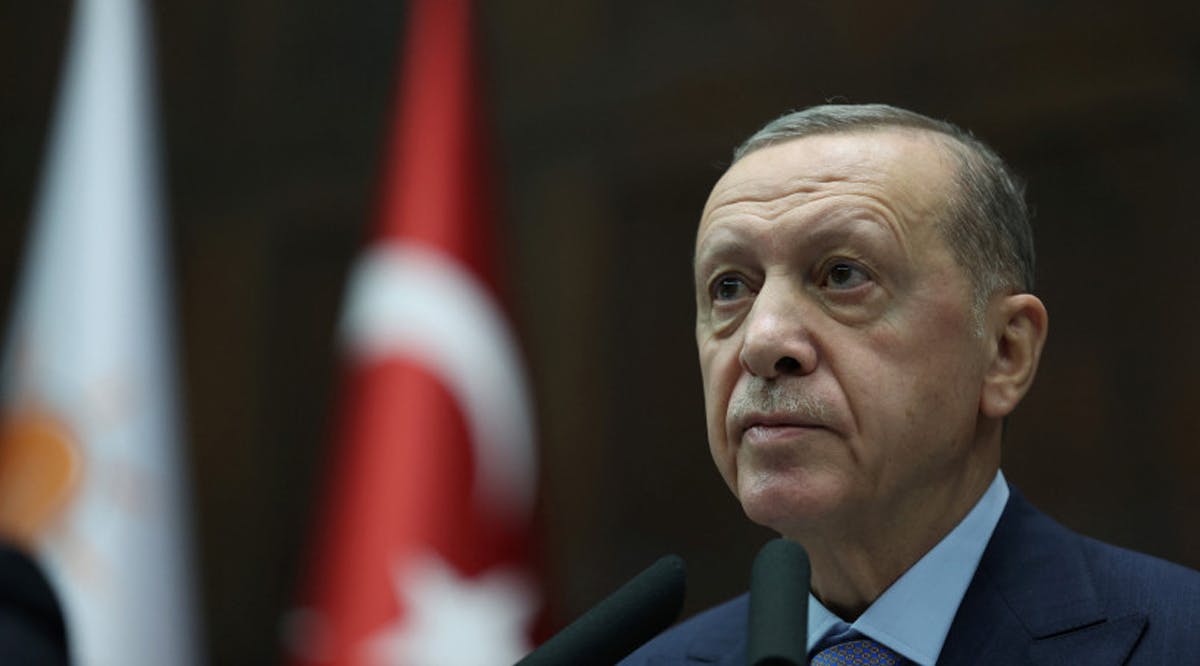 'Jews Not Allowed': As Erdogan Praises Hamas, Antisemitism Rises on the Ground in Turkey
"Jews not allowed," read the sign in English and Turkish above Rağman Şahaf, a used book store next to Istanbul University, not far from the city's famed Grand Bazaar. Even after the sign was taken down on Friday, October 27, the store's owner said he stuck by the message.
Anti-Israel banners and graffiti, along with Palestinian flags, have become commonplace across Istanbul, as many of its citizens fume over Israel's response to the Hamas attacks on October 7 that left over 1,400 dead. Images have also circulated of taxis with signs saying that their drivers would not serve Israelis.
Turkish President Recep Tayyip Erdogan, who has had an up-and-down relationship with Israel over his 20 years as Turkey's head of state, has come out firmly defending Hamas' actions on October 7, calling the terrorist organization "a liberation group." In response, Israel recalled its diplomats from Turkey.
Antisemitic rhetoric has spread throughout Turkish politics. A day after a hospital in Gaza was hit by rocket fire on October 17, a politician from Turkey's ruling AKP party, Süleyman Sezen, representing a small municipality called Atakum in the Black Sea city of Samsun, said at a public hearing that he was praying for the soul of Hitler, adding that the world will find peace when it is cleansed of Jews and that the Holocaust was "unfinished."
On October 10, Huda-Par parliamentarian Şahzade Demir addressed the Turkish parliament, calling to revoke citizenship for Turkish Jews if they volunteer for the Israeli military. Days later, a far-right media outlet, called for Turkish Jews to be denaturalized, under the false claim that they all have dual Israeli citizenship.
It has all amounted to a tense atmosphere for Turkish Jews, who now number around 15,000 and descend mainly from Sephardic families but also include Ashkenazi, Romaniote, and Mizrahi communities. That number was close to 80,000 in the founding year of Turkey's republic in 1923 — exactly 100 years ago on Sunday. (JPost / VFI News)
"Those who hate me without reason outnumber the hairs of my head; many are my enemies without cause, those who seek to destroy me. I am forced to restore what I did not steal." - Psalm 69:4