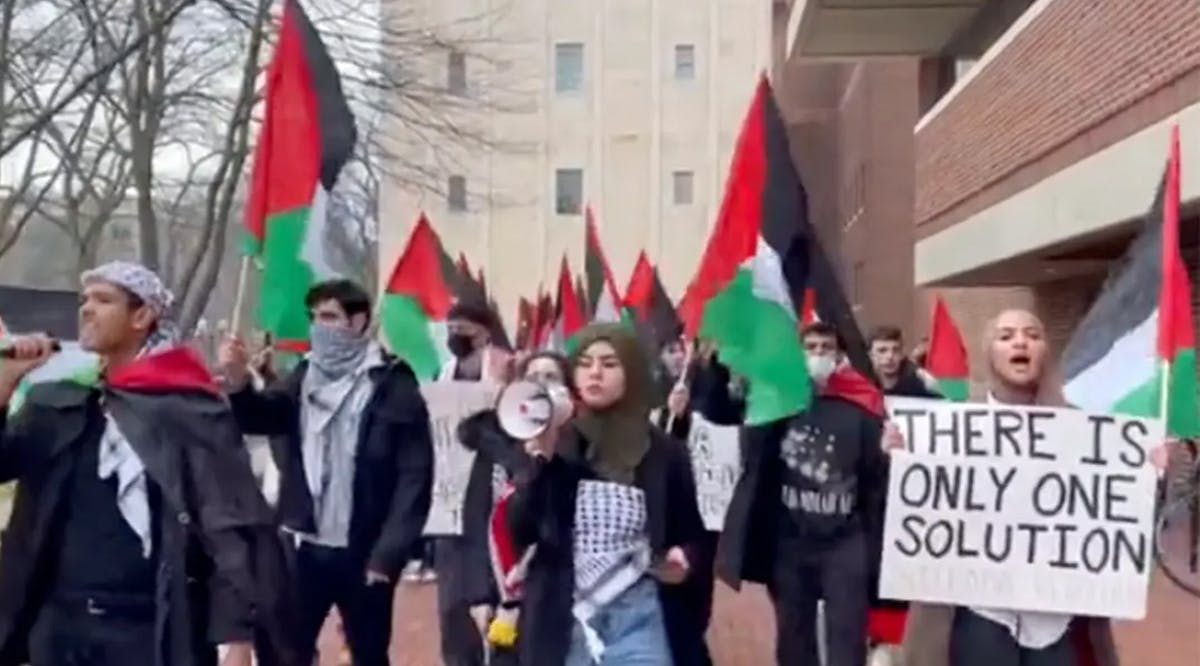 University of Michigan Protesters Call for 'Intifada,' Demise of Israel: 'A Call to Murder Jews'
Social media users were shocked and outraged over a recent anti-Israel rally put on by pro-Palestinian protestors at the University of Michigan the previous week.
Clips of the protest depicted marchers, chanting "Intifada, Intifada! Long live the Intifada", a call to violent overthrow of the Jewish state inspired by Palestinian riots and rebellions against Israel in the late 80s, early 90s, and early 2000s.
"There is only one solution!" a female marcher was seen chanting, as the crowd behind her responded, "Intifada! Revolution! Marchers, seen walking around the Ann Arbor campus screaming into bullhorns and waving Palestinian flags, were also heard chanting the infamous anti-Israel call to arms: "From the river to the sea, Palestine will be free!"
Media reported that the anti-Semitic rally was held to protest Vice President Kamala Harris' Thursday visit to the campus, where she gave a speech on climate policy, and student activism. The protestors appeared to be standing against U.S. government support for the state of Israel.
The blatant call to overthrow Israel disturbed prominent Twitter users, who were stunned that such sentiment was expressed so freely on a major American college campus. Jewish media columnist Blake Flayton tweeted, "At the University of Michigan, a call to murder Jews."
Rep. Jared Moskovitz, R-Fla., spoke to the shocking nature of the rally, tweeting, "Using Hitler's word 'solution' is intentional here. Israel has a right to exist. We will never compromise that. The Jewish people have a right to exist. We will ensure."
Former Sen. Ted Cruz, R-Texas, national security advisor Boris Ryvkin condemned the rally, writing, "Terrifying. Echoes of what happened in Charlottesville, except the violent anti-Semites are cut from a different cloth. I expect major media to give this the saturated, wall-to-wall coverage it gave that event with the WH, Democratic leaders and the Squad members condemning it." (NYP / VFI News)
"God, we ask that Jewish people are protected from anti-Semitism, and that hate speech receives severe consequences. We are also grateful for the individuals who speak out against such abhorrent actions."