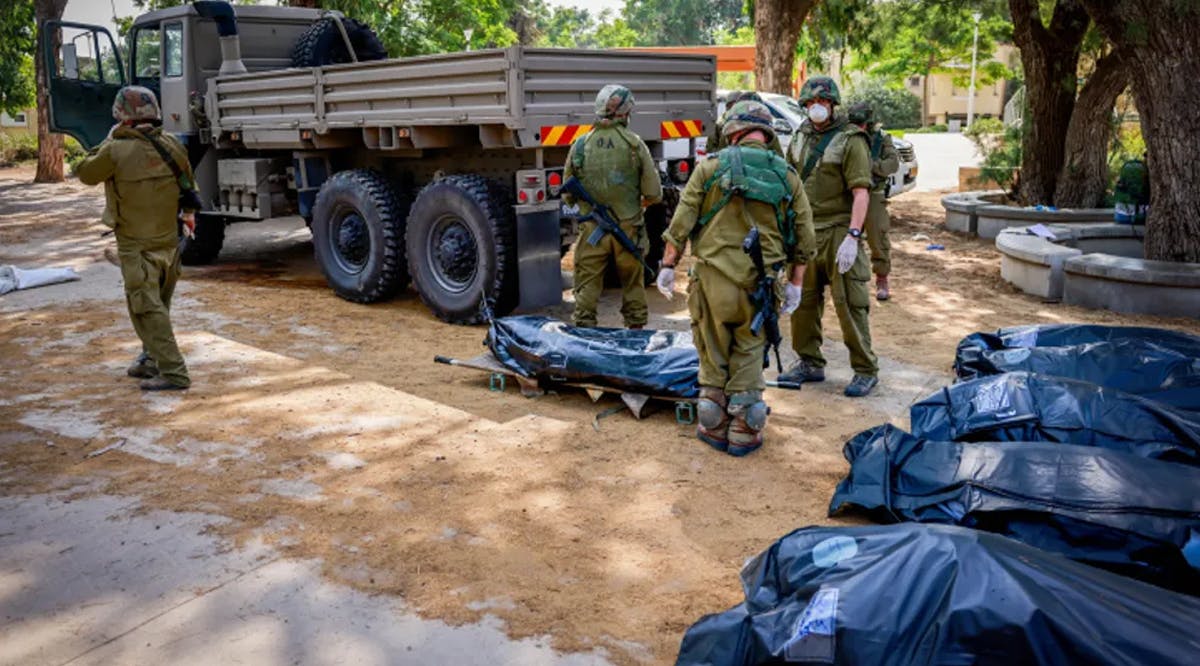 Unimaginable Atrocities Committed by Hamas
The full scale of the Hamas massacre in the kibbutz of Kfar Aza near the Israeli border with Gaza has been revealed: 52 residents were murdered by terrorists, seven were confirmed to have been abducted to Gaza, and 13 residents are still missing. In addition, at this stage, it is known that 25 residents of Kibbutz Nahal Oz were murdered, while the fate of 80 other residents is still unknown.
Last week, the IDF allowed foreign media outlets into Kfar Aza to witness and document the atrocities that were committed in the kibbutz. Media correspondents at the scene said that "what happened in Kfar Aza can only be described as a massacre, with shocking evidence of families who were caught in an unimaginable terror."
"I saw the stretcher-bearers find the body of a small child from one of the houses. They carried his body without saying a word, and put it in the car, alongside the bodies of other residents who were murdered while trying to hide or defend themselves."
Meanwhile, a highly vulnerable 17-year-old girl with a debilitating muscle disorder and her father were abducted by Hamas terrorists, a family member reports. Rut Perez, who suffers from muscular dystrophy and is unable to walk or talk, attended the Supernova festival last Saturday along with her father, Eric, and sister, Yamit, who left early with friends.
According to Yamit, "It was the happiest I've ever seen her, dancing in her wheelchair. She was so happy." She pleads, "I am begging Hamas to let my dad take care of her; he's the only one who knows what she needs."
To date, the death toll since Hamas' attacks has risen to 1,400 including 286 Israeli soldiers, 29 Americans, 28 Thai nationals, 19 French citizens, and 5 Canadians, about 4,000 people have been injured and at least 199 people have been abducted. (INN / VFI News)
"God, we offer our sincerest condolences to all the people who have lost their loved ones during the terrorists' vicious attacks. We ask that You comfort them and that You help our soldiers find and rescue the hostages who are still missing.