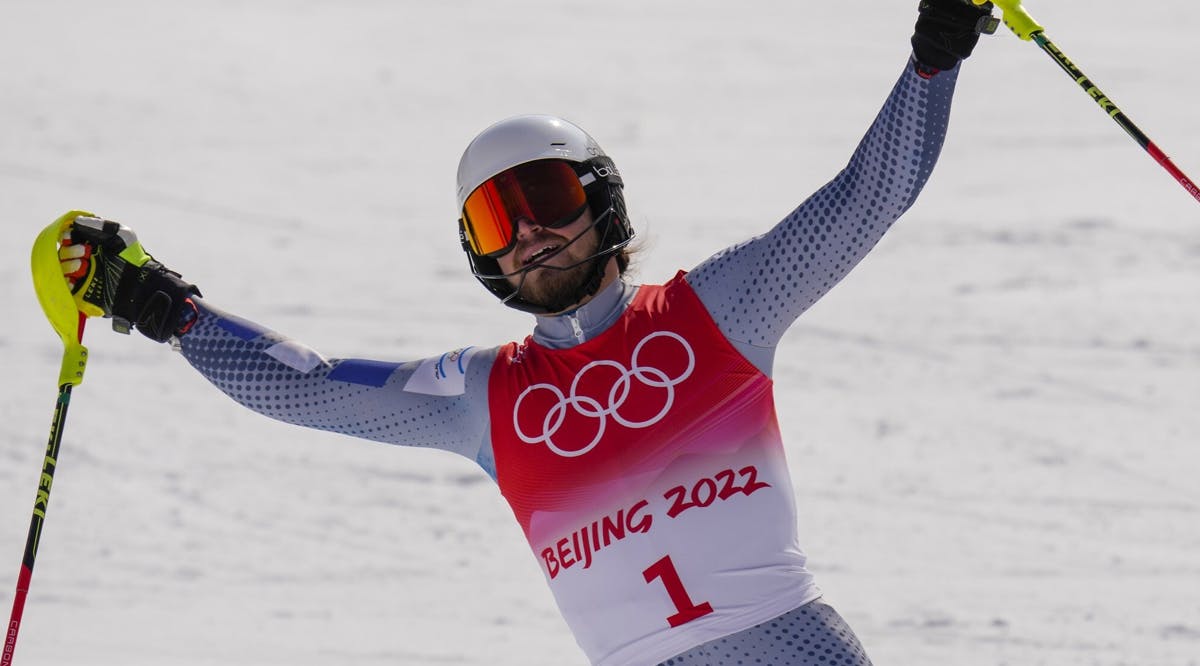 Israeli Skier Szollos Surprises with 6th-Place Finish at Winter Olympics
Barnabas Szollos finished in sixth place overall in the men's alpine combined at the 2022 Beijing Winter Olympics on Thursday, February 10, in Israel's best-ever Olympic skiing finish.
Szollos, a Hungarian-born skier representing Israel in his Olympic debut, finished an incredible second in the slalom portion of the event, and 11th in the downhill portion, granting him an overall sixth-place finish with a time of 1:45.04.
Gold in the alpine combined went to Austria's Johannes Strolz, who finished with 1:43.87, silver was won by Norway's Aleksander Aamodt Kilde and bronze taken by Canada's James Crawford.
"It was a really good race, I had a lot of fun," Szollos said in a video message to reporters following the event. "To place sixth feels amazing and I'm really happy… it's an honor to be here, to represent Israel, and I'm really, really happy."
Ahead of the Games, the head of Israel's delegation to the Winter Olympics, Yaniv Ashkenazi, said it would be "a very impressive achievement" if Szollos finished his races in the top half of athletes.
The alpine combined was Szollos's third Olympic event, after he finished 30th overall in both the men's downhill and Super-G. On Sunday, February 13, he is slated to compete in the giant slalom, and on Wednesday, February 16, in the slalom.
His sixth-place finish in the alpine combined puts him tied for Israel's best Winter Olympics showing with ice dancers Galit Chait and Sergei Sakhnovski, who placed sixth in ice dancing at the 2002 Games in Salt Lake City. Today, Chait is the head coach and choreographer for Israel's national figure skaters. (TOI / VFI News)
Having gifts that differ according to the grace given to us, let us use them: if prophecy, in proportion to our faith; - Romans 12:6
The suggestions, opinions, and scripture references made by VFI News writers and editors are based on the best information received.

Want to see more from VFI? Follow us on Facebook! Our official Facebook name is Vision for Israel. Follow us there and please hit "like" if you like us.