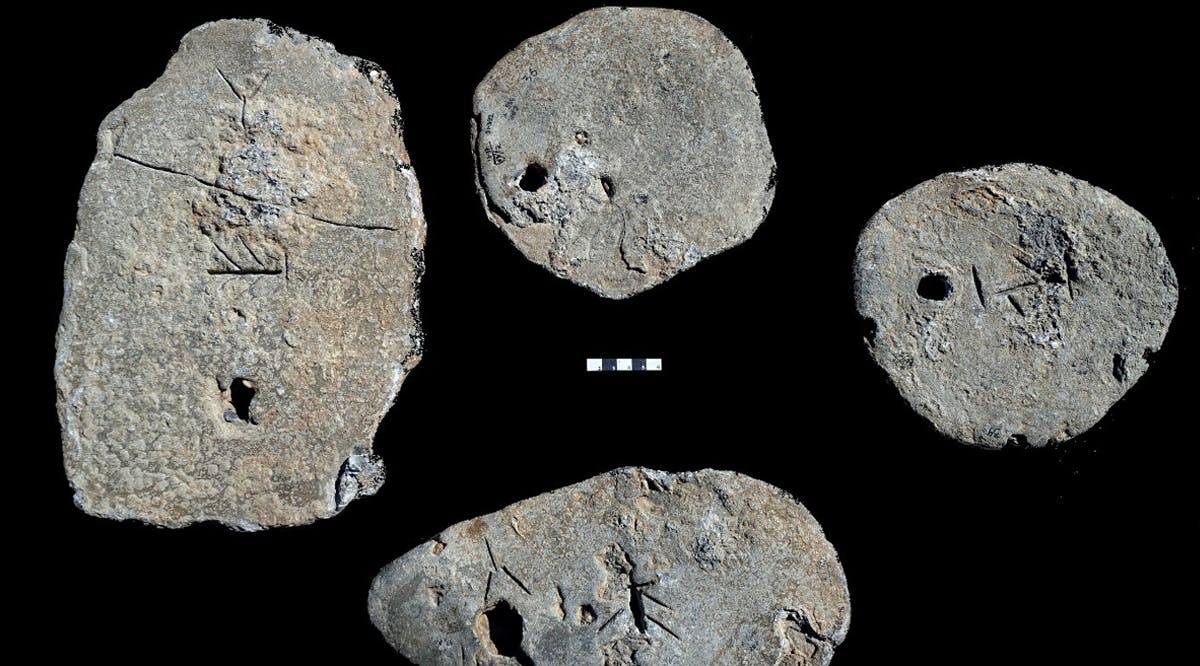 New Analysis of 3,200-Year-Old Lead Ingots Sinks Theories About Bronze Age Trade
A new analysis of four 3,200-year-old lead ingots from shipwrecks off the coast of Caesarea redraws late Bronze Age trade routes and may shift researchers' understanding of Cyprus's geopolitical role.
The recently published study in the Journal of Archaeological Science: Reports, "Incised Late Bronze Age lead ingots from the southern anchorage of Caesarea," takes a new look at four lead ingots originally recovered in dives in the late 1980s, which were etched with indecipherable Cypro-Minoan markings used by Cypriots in the 13th–early 12th century BCE.
"It was a bit of a detective story," said co-author Prof. Naama Yahalom-Mack of the Hebrew University's Institute of Archaeology in conversation Monday. "We started from the markings and went on to the metal itself to understand where it comes from. First of all what it is, then to see in isotopic analysis that the lead's 'fingerprint' points us to Sardinia." She noted that Sardinia is an unexpected place of origin for these presumably Cypriot ingots because it is "beyond the western Mediterranean, beyond the [Cypriots'] regular route of trade, which is Egypt, the Levant, Anatolia and the Aegean"
According to Yahalom-Mack, Cyprus was once thought of as a "passive" bit player, merely a producer of copper for others to buy and sell in the international metals trade. Bronze, the ubiquitous metal of the era, is forged through a combination of tin, lead, and copper.
However, new interdisciplinary research published jointly by the Hebrew University of Jerusalem and the University of Haifa describes a small but agile nation with both formal and informal trade ties that may well have helped fill the power vacuum that occurred with the collapse of entrenched empires around 1200 BCE.
What the new study points to is that "along with formal trade expressed in texts, there is informal trade — smaller ships, entrepreneurs, taking advantage of formal trade and hitching a ride on it," Yahalom-Mack said.
Yahalom-Mack said there is some evidence that Canaanites may have been involved. She said the current study is "another brick in the building" that is taking Cyprus from a passive player to a more active player, but much more work is needed. (TOI/ VFI News)
The suggestions, opinions, and scripture references made by VFI News writers and editors are based on the best information received.

Want to see more from VFI? Follow us on Facebook! Our official Facebook name is Vision for Israel. Follow us there and please hit "like" if you like us.