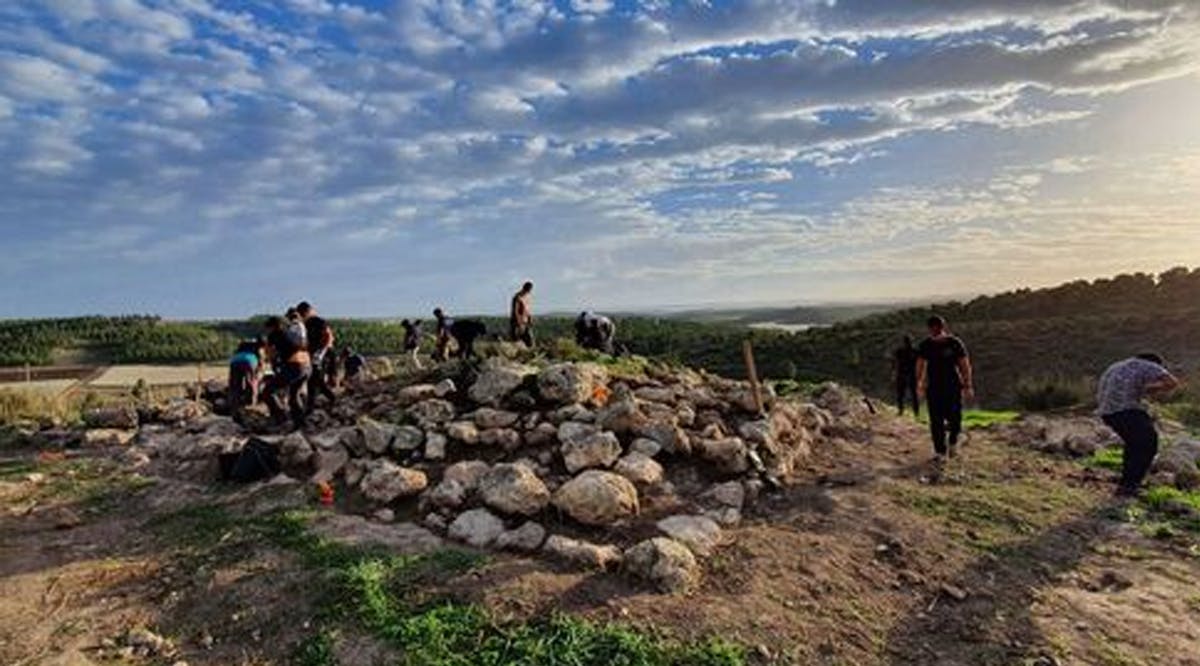 Hellenist Fortress Destroyed by Hasmoneans Uncovered
Weapons, burnt wooden beams, dozens of coins, and a Hellenistic fortified structure—tangible evidence of a battle between the Hasmoneans and the Seleucids some 2,100 years ago—are currently being unearthed in Israel Antiquities Authority excavations in Lachish Forest.
The excavations are being conducted as part of the Kings of Judah Road project, in cooperation with the Jewish National Fund, funded by the Jerusalem and Heritage Ministry, assisted by high-school students majoring in the Ministry of Education's Land of Israel Studies and Archaeology program, and students from the Asher Ruach Bo pre-military program in Mitzpe Ramon for youths at risk.
According to Saar Ganor, Vladik Lifshits, and Ahinoam Montagu, excavation directors on behalf of the Israel Antiquities Authority, "The excavation site provides tangible evidence of the Hanukkah stories. It appears that we have discovered a building that was part of a fortified line erected by the Hellenistic army commanders to protect the large Hellenistic city of Maresha from a Hasmonean offensive. However, the finds from the site show that the Seleucid defenses were unsuccessful; the excavated building was badly burnt and devastated by the Hasmoneans."
The excavation revealed a 15 × 15 m building planned as a well-fortified unit. The external walls, no less than 3 m wide, were built of large stones and had a sloping outer glacis to prevent the wall from being scaled. The inside of the structure was divided into seven rooms, preserved to an exceptional height of roughly 2 m. The excavation uncovered a stairwell leading to a second floor, which was not preserved. The building is estimated to have been about 5 m high.
The site lies on the summit of a high hill commanding a view of the ancient main road, which ran along the Nahal Lachish streambed and connected the coastal plain to the central highland ridge. The building overlooks Maresha, the largest Hellenistic city in the area and the capital of Idumea in the Hellenistic period. (i365 / VFI News)
"For inquire, please, of bygone ages, and consider what the fathers have searched out. For we are but of yesterday and know nothing, for our days on earth are a shadow. Will they not teach you and tell you and utter words out of their understanding?" - Job 8:8-10
The suggestions, opinions, and scripture references made by VFI News writers and editors are based on the best information received.

Want to see more from VFI? Follow us on Facebook! Our official Facebook name is Vision for Israel. Follow us there and please hit "like" if you like us.