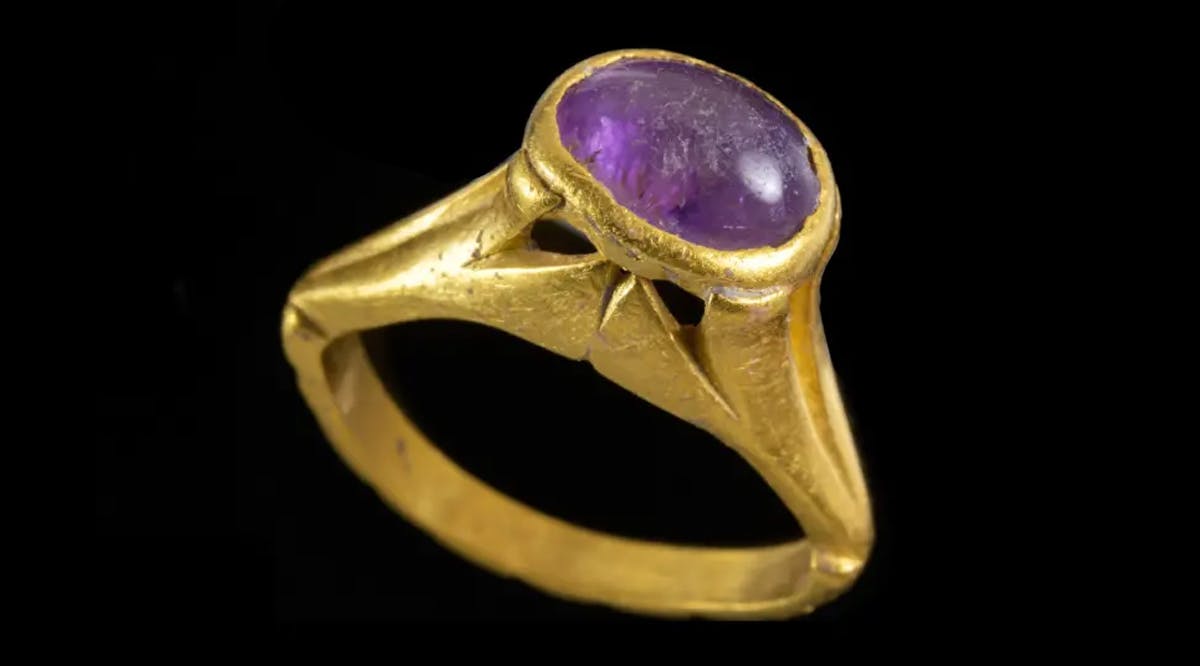 Exquisite Gold Ring with Amethyst Stone Found in Byzantine Yavne
A unique gold ring featuring a delicate purple amethyst stone was uncovered in the excavation of a Byzantine winery complex in Yavne, the Antiquities Authority (IAA) announced.
The wine factory was used to produce the legendary regional wine, known as Gaza or Ashkelon wine after the ports from where it was exported all over the Mediterranean. The jewel was unearthed near one of the warehouses.
"The person who owned the ring was affluent, and the wearing of the jewel indicated their status and wealth," said Dr. Amir Golani on Tuesday, an IAA expert on ancient jewelry. "Such rings could be worn by both men and women.
"Amethysts are mentioned in the Bible as one of the 12 precious stones worn by the high priest of the Temple on his ceremonial breastplate," he added. "Many virtues have been attached to this gem [amethyst], including the prevention of the side effect of drinking, the hangover."
According to the archaeologists, there could be a connection between this quality attributed to the stone and the location where it was found.
A large number of jars were found in the warehouse, some of them positioned upside down to store them or dry them before being brought to be refilled with wine
The artifact was not conclusively dated. It was found in a fill dated between the end of the Byzantine period and the beginning of the early Islamic period, around the 7th century CE. However, since similar rings – gold bands with inlaid amethysts – were common in the Roman world, the jewel could have belonged to someone living in the city as early as the third century CE.
After the destruction of Jerusalem at the hands of the Romans in 70 CE, Raban Yohanan Ben-Zakai moved the Sanhedrin, the supreme court and legislative body in all matters of Halacha, to Yavne.
During the Byzantine period it was an important Christian town, also featuring a significant Jewish population. (JPost / VFI News)
"Remember the days of old; consider the years of many generations; ask your father, and he will show you, your elders, and they will tell you." - Deuteronomy 32:7
The suggestions, opinions, and scripture references made by VFI News writers and editors are based on the best information received.

Want to see more from VFI? Follow us on Facebook! Our official Facebook name is Vision for Israel. Follow us there and please hit "like" if you like us.