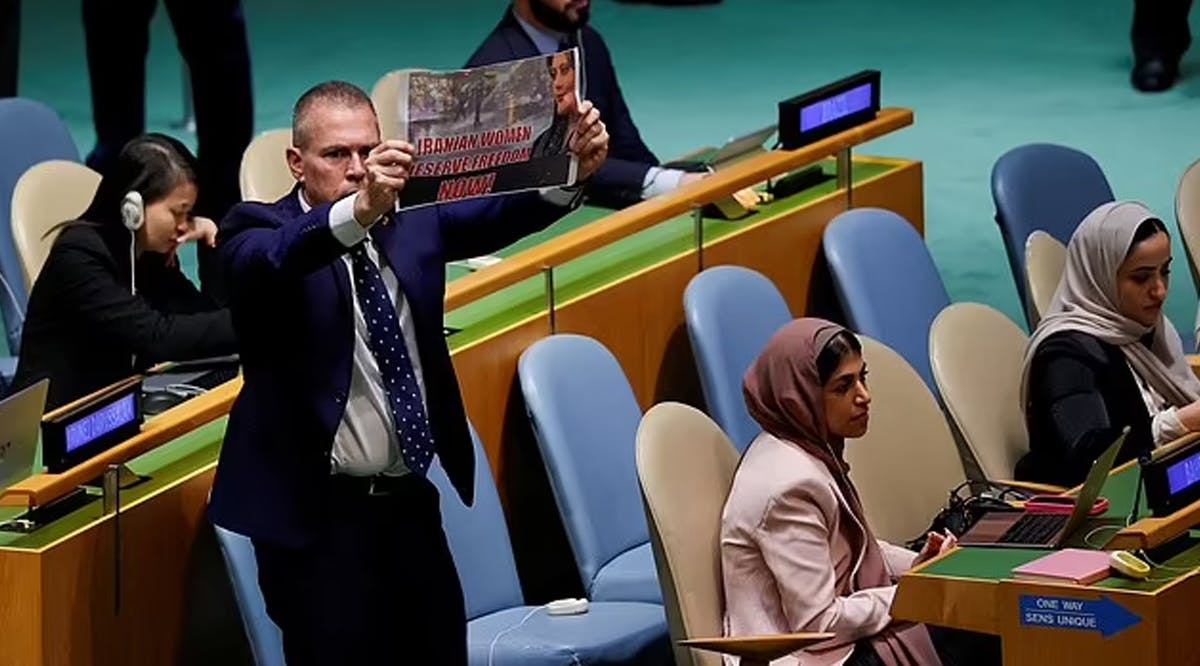 Israel's Ambassador to UN Detained by Security After Iran Speech
Gilad Erdan, Israel's ambassador to the United Nations, was detained by UN security personnel on Tuesday, September 19, after he staged a protest on the floor of the General Assembly during a speech by Iranian President Ebrahim Raisi. Erdan was released but told American media that he was detained with "unacceptable" brutality.
Erdan protested by displaying an image of Kurdish-Iranian Mahsa Amini with the caption, "Iranian women deserve freedom now!" Amini's death resulted in a series of protests, during which at least 476 people were killed by regime security forces.
"While the butcher of Tehran is speaking at the UN and is being respected by the international community, hundreds of Iranians are protesting outside, shouting and calling on the international community to wake up and help them," Erdan said in a statement.
"Other ambassadors have previously held signs for ideological reasons, including in recent sessions on the war in Ukraine, with no repercussions. I will not be deterred and will always stand up for what is right and just," Erdan added.
"So I decided to show him and remind everyone the struggle of the Iranian women, and also to remind the world and the Iranian people that they are not our enemies, that the people of Israel support and stand in solidarity with them, whatever their regime is telling them and lying to them about Israel," he continued. (I365N / VFI News)
"God, we pray for Iranian women and girls, as well as for every Iranian citizen that is oppressed by the current authoritarian regime. We ask that You help them create a peaceful democratic country and rid themselves of the rulers that have no regard for the Iranians' lives nor welfare."