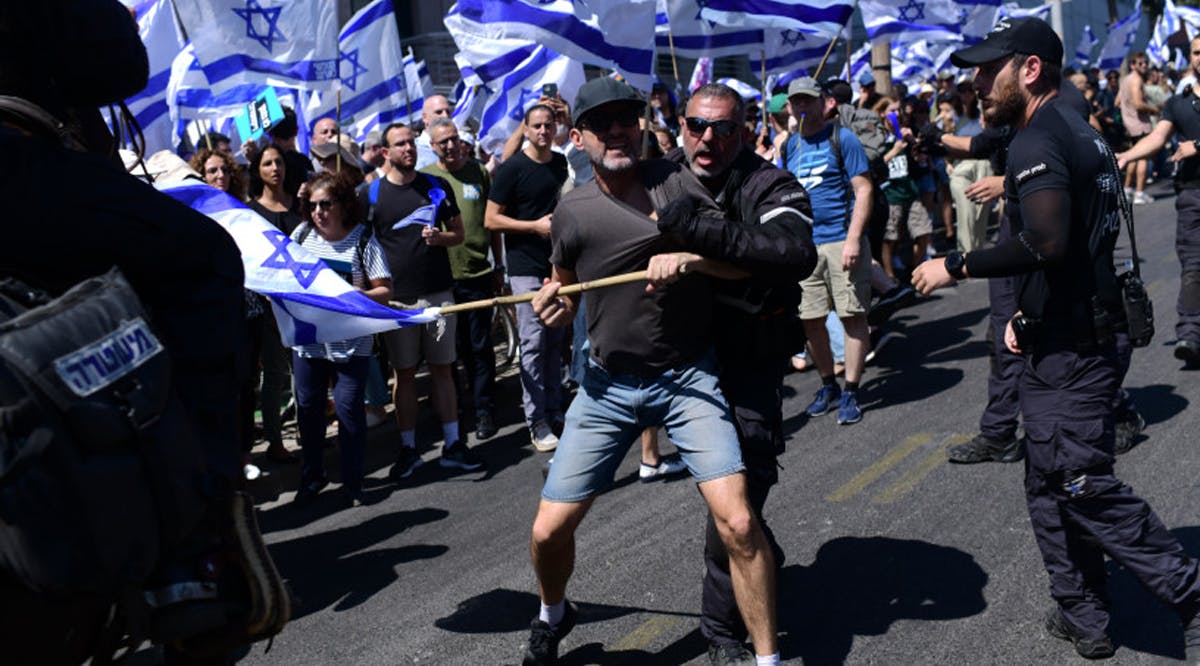 73 Arrested in Nationwide 'Day of Resistance' Protests
Protesters blocked roads across Israel and demonstrated at Ben-Gurion Airport and additional locations on Tuesday, July 11, in a "Day of Resistance" in protest against the reasonableness standard bill passing its first reading in Knesset on Monday night by a vote of 64 to 56.
The bill is an amendment to Basic Law: The Judiciary, that would block Israel's courts from applying what is known as the "reasonableness standard" to decisions made by elected officials. The reasonableness standard is a common law doctrine that allows for judicial review against government administrative decisions that are deemed beyond the scope of what a responsible and reasonable authority would undertake.
73 protesters were arrested by Israel Police for disturbing the peace, as of Tuesday evening. 45 of those have already been released, according to police.
At Ben-Gurion Airport, a group of Yom Kippur War veterans and the "Building an Alternative" protest movement gathered in the arrivals hall with signs reading "Welcome to Gilead" and "Blessed be the fruit" in reference to the book The Handmaid's Tale.
In Herzliya, protesters set up tents and burned tires in the middle of the HaSira junction, blocking the road on Tuesday morning before being forcibly removed by police.
Demonstrators also blocked Highway 2 near Haifa, the Ayalon Highway in Tel Aviv, Highway 1 near Jerusalem, and Begin Road in Jerusalem. Roads were also blocked in Tirat Hacarmel, Modi'in, and Binyamina. Police said they were operating at the various protest locations in an effort to clear roads and prevent disruptions. (JPost / VFI News)
"Pray for the peace of Jerusalem: 'May those who love you be secure. May there be peace within your walls and security within your citadels.' " - Psalm 122:6-7