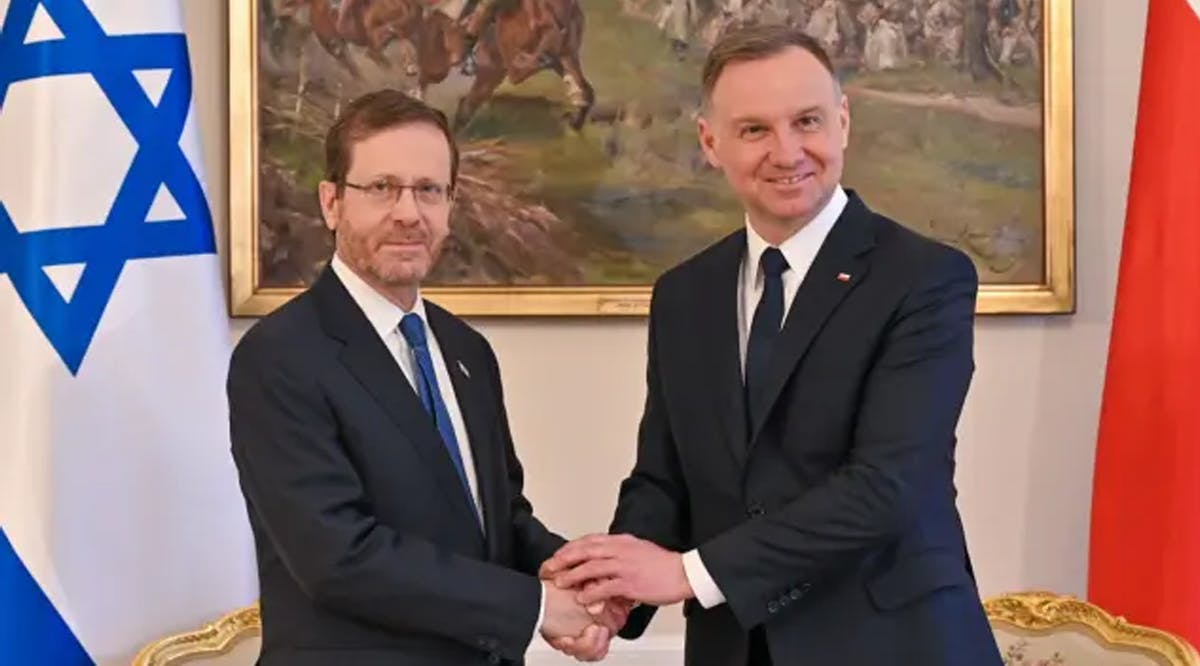 President Herzog Lands in Poland to Mark 80 Years Since the Warsaw Ghetto Uprising
President Isaac Herzog arrived in Poland on Wednesday morning, April 19, ahead of official state ceremonies marking the 80th anniversary of the 1943 Warsaw Ghetto Uprising.
The main event will take place in the square by the 1948 Rapoport memorial to the heroes of the revolt, built on the site of the former ghetto from where Polish Jews were transported to the gas chambers.
The annual ceremony dates back 75 years and commemorates the Jewish armed resistance against the Nazis that began on April 19 and lasted almost a full month until the ghetto was burned to the ground on May 16. The Nazis dramatically symbolized their victory by blowing up Warsaw's Great Synagogue.
This year, the event has been significantly expanded to include the presidents of Israel, Poland, and Germany. Herzog, along with his German and Polish counterparts, Frank–Walter Steinmeier and Andrzej Duda, respectively, will deliver speeches. Herzog will also hold bilateral meetings with Steinmeier and Duda.
The three leaders will then participate in a second ceremony at the Nozyk Synagogue, which was completed in 1902 and is the only synagogue in Warsaw to have survived World War II.
They will unveil a plaque to honor the president's grandfather Yitzhak HaLevi Herzog, who was chief rabbi of Ireland, Mandatory Palestine, and then the first chief rabbi of the State of Israel. He visited the Nozyk Synagogue in 1946, just one year after the war's end. (JPost / VFI News)
"I well remember them, and my soul is downcast within me." - Lamentations 3:20