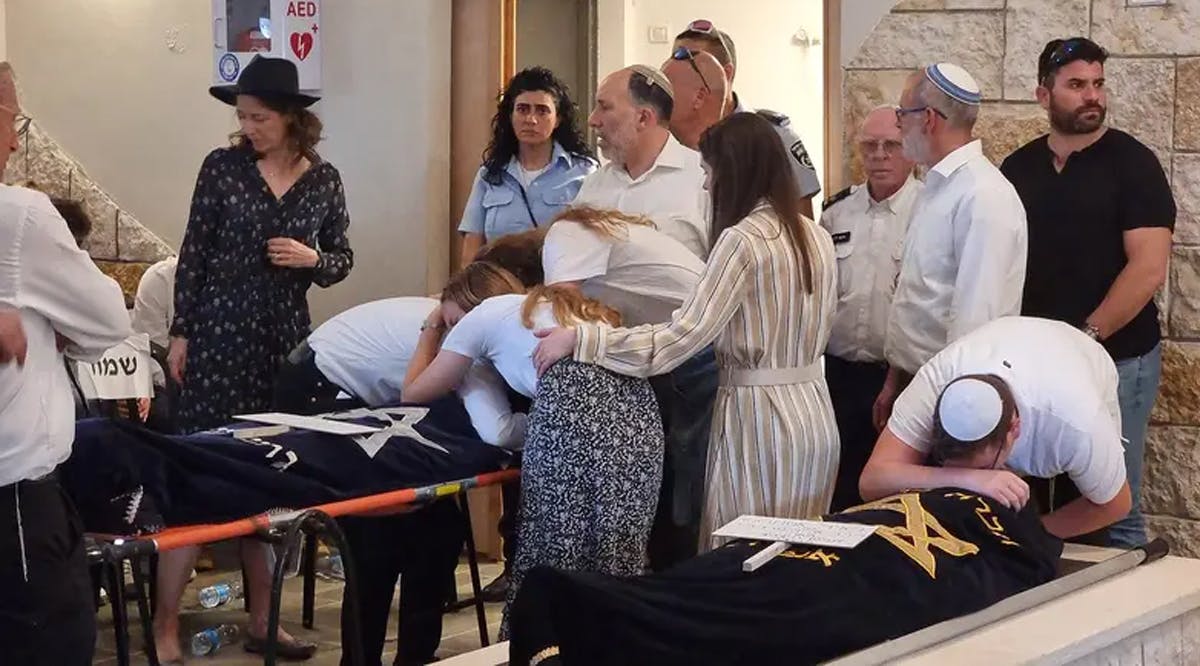 Maia and Rina Laid to Rest in Double Grave
Following Friday's deadly terror attack, in which the Dee sisters, Maia and Rina, were murdered by an Arab terrorist, the two sisters were laid to rest together on Sunday afternoon, April 9.
When the bodies of the victims entered the funeral hall, the two remaining sisters broke down crying and fell on their sisters' bodies.
The ceremony opened with the reading of Psalms for the recovery of the victims' mother, Leah, who remains in critical condition following the attack.
Rabbi Leo Dee, the victims' father, eulogized his daughters: "Today, the Jewish people have proven that we are one. When a family in Efrat hurts, we all hurt. There is no clearer proof of our unity, Am Yisrael Chai."
"We have been marching through the streets of Jerusalem, and Tel Aviv with Israeli flags, arguing over whether there should be a majority of 61, 65, 70, an override clause, or no override clause, in the Supreme Court, let's be honest, most of us have no idea what any of this means."
"But in three weeks' time in Yom Hazikaron and Yom Haatzmaut, we will once again be marching side by side, all of us carrying our Israeli flags, left-wing next to the right-wing, religious next to secular, uniting against the real threat, the threat of pure evil, the threat of a mad ideologically driven terrorism funded by Iran, Hamas, Hezbollah, with the Kalashnikov rifle, who doesn't care if you're from Efrat or Tel Aviv, London or Italy. Who's prepared to destroy your children's lives in an instant, and then we will all march as one." (INN / VFI News)
"I lift up my eyes to the mountains— where does my help come from? My help comes from the Lord, the Maker of heaven and earth." - Psalm 120:1-2