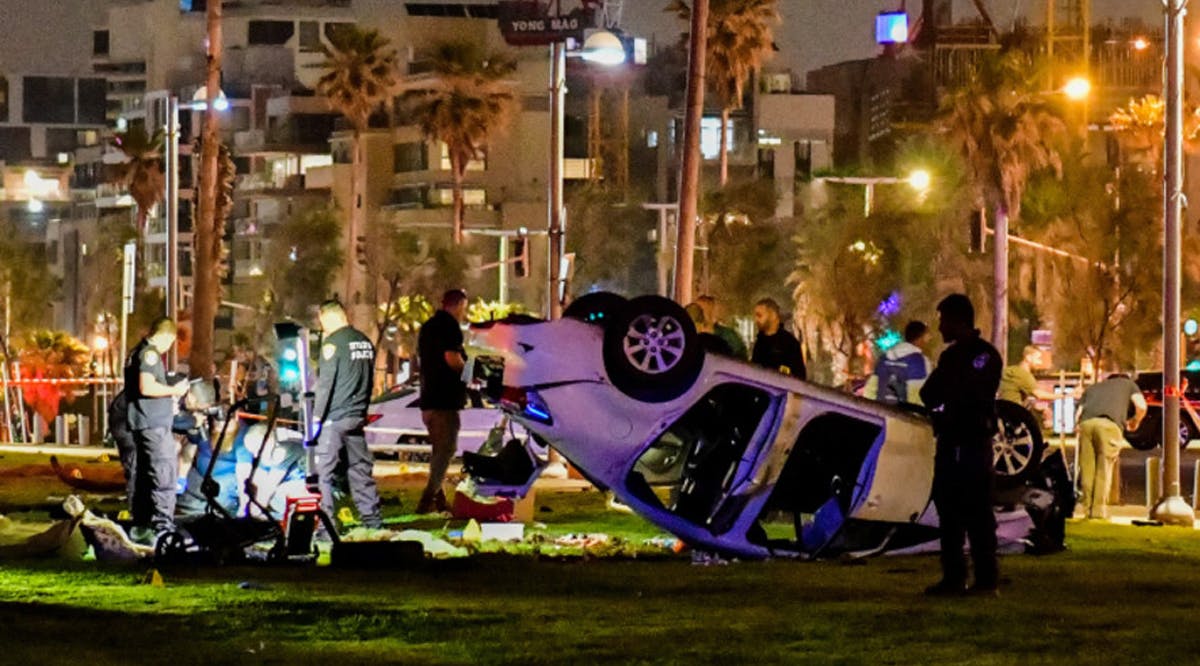 One Dead, Seven Injured Including UK and Italian Tourists after Terrorist Car-Ramming Attack in Tel Aviv
A car-ramming attack in Tel Aviv that left one man dead and seven others injured follows the shooting to death of two British-Israeli sisters in the country's West Bank amid a spike in violence coinciding with the Muslim holy month of Ramadan.
According to a report by Israeli media, the incident occurred on the Kaufmann Street promenade late on Friday night, April 7, with "Arab Israeli" male Kafr Qassem mounting a bicycle lane in a car before hitting a number of foreign tourists from Italy and the United Kingdom enjoying a walk by the seashore.
Footage of the attack then shows the car careering off the road, eventually flipping as it ground to a halt. Qassem was subsequently shot dead by Israeli police, with officers reportedly believing that the attacker was reaching for a weapon when they approached him.
The incident — which is being treated as a terrorist attack by Israeli authorities — is reported to have killed one man, Italian national Alessandro Parini. Seven others were also injured as a result of the attack, though media reports indicate that only three needed hospitalization, all of whom are now described as being in good condition.
Government officials from Italy, Israel, and the United States have all condemned the attack, with Italian Prime Minister Giorgia Meloni denouncing the attack as "cowardly". (BB / VFI News)
"God, we are deeply saddened by the continual terror attacks against Israel, and we ask that You help us eliminate such vile actions in the future. We pray for the full recuperation of the injured parties and we offer our sincerest condolences to the family of the Italian man. Let us all hope that Israel will not waver and that we will be able to defend ourselves at all times onwards."