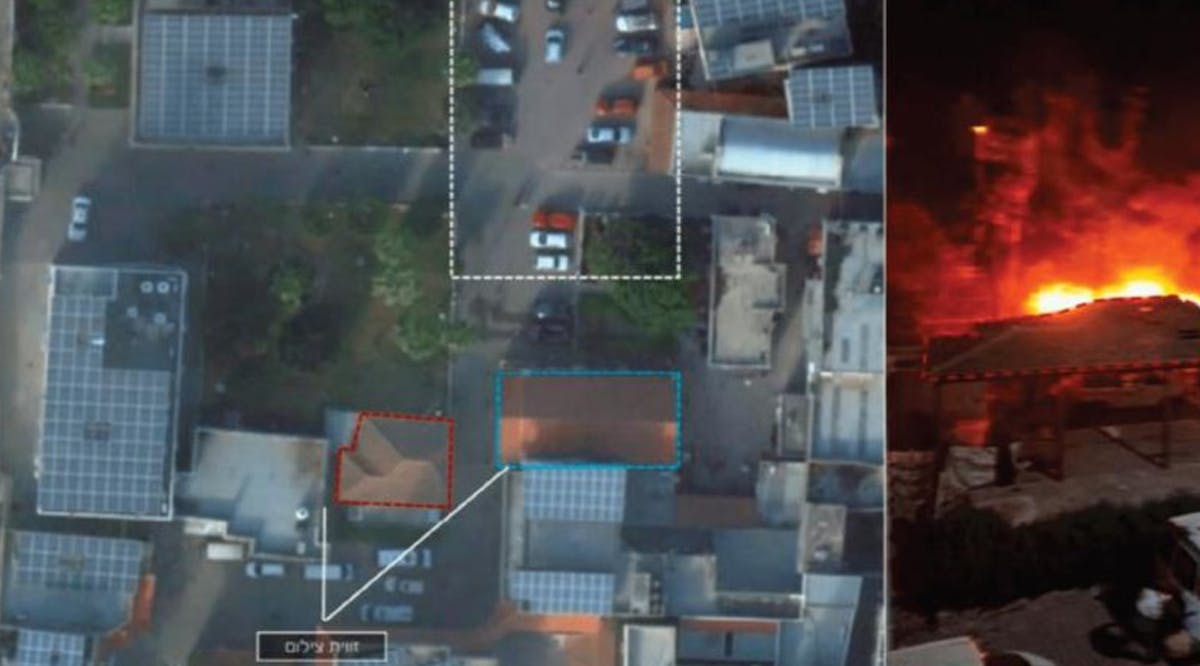 IDF Tells World: This Is How Islamic Jihad Destroyed the Gaza Hospital
IDF Spokesperson Brig. Gen. Daniel Hagari on Wednesday, October 18, laid out the IDF's full comprehensive intelligence case to prove that an Islamic Jihad failed rocket caused the damage Tuesday night to a Gaza hospital, leading to a still-unclear, but large, number of Palestinian civilian deaths.
The chief spokesman presented actual audio recordings in which Islamic Jihad members say out loud that they are responsible for the explosion. Hagari also presented a detailed video showing different stages of the rocket's trajectory and the layout of the hospital being hit.
Next, he said, "At 6:15 p.m., a barrage of rockets was fired by Hamas at Israel. At 6:50 p.m., a barrage of 10 rockets was fired by Islamic jIhad from a nearby cemetery. Further, at 6:59 pm., there were reports of an explosion at the hospital. According to our intelligence, Hamas checked reports, and itself understood that it was an Islamic Jihad rocket misfire and decided to launch a global media campaign to hide what happened."
Hamas also inflated casualties, he stated. Local Hamas-run Gazan sources allege that 471 people were killed at the hospital; foreign independent intelligence sources claimed instead that the number was closer to 10-50. During an analysis, it was also noted that within about 10 meters of the impact site, cars appeared largely undamaged. Further, according to a British media outlet citing an unclassified US intelligence report released on Thursday, the death toll is estimated to be "probably at the low end of the 100 to 300 spectrum."
Hagari additionally stated that the PIJ rocket was fired from a nearby cemetery and hit a parking lot next to the hospital which likely had terror munitions and caused further damage. He said there was visual evidence showing infrared imagery of the parking lot. The IDF also confirmed there was no IDF fire by land, sea, or air which could have hit the hospital.
Finally, a rough summary of some of the internal Islamic Jihad conversation included statements such as: "It's from us?", "It looks like it!", "But God bless, it couldn't have found another place to explode?", "Nevermind, yes, they shot it from the cemetery behind the hospital", "They shot it coming from the cemetery behind the Al-Ma'amadani Hospital, and it misfired and fell on them", "Yes, Al-Ma'amadani is exactly in the compound." (JPost / VFI News)
"Lord, we pray that You will comfort the families of the innocent people who died in the hospital due to JIP's misfired rocket. We also pray that You would bring the truth forth and that the world will see that Israel did not strike the hospital. We ask that You would silence the lying tongues and bring justice to those who have caused atrocities among Israeli and Gazan families."
The articles included in this publication do not necessarily reflect the views or opinions of Vision for Israel. We try to provide accurate reporting on news pertinent to Israel, the Middle East, the diaspora, and Jewish issues around the world—and we hope that you find it both informative and useful for intercessory prayer.