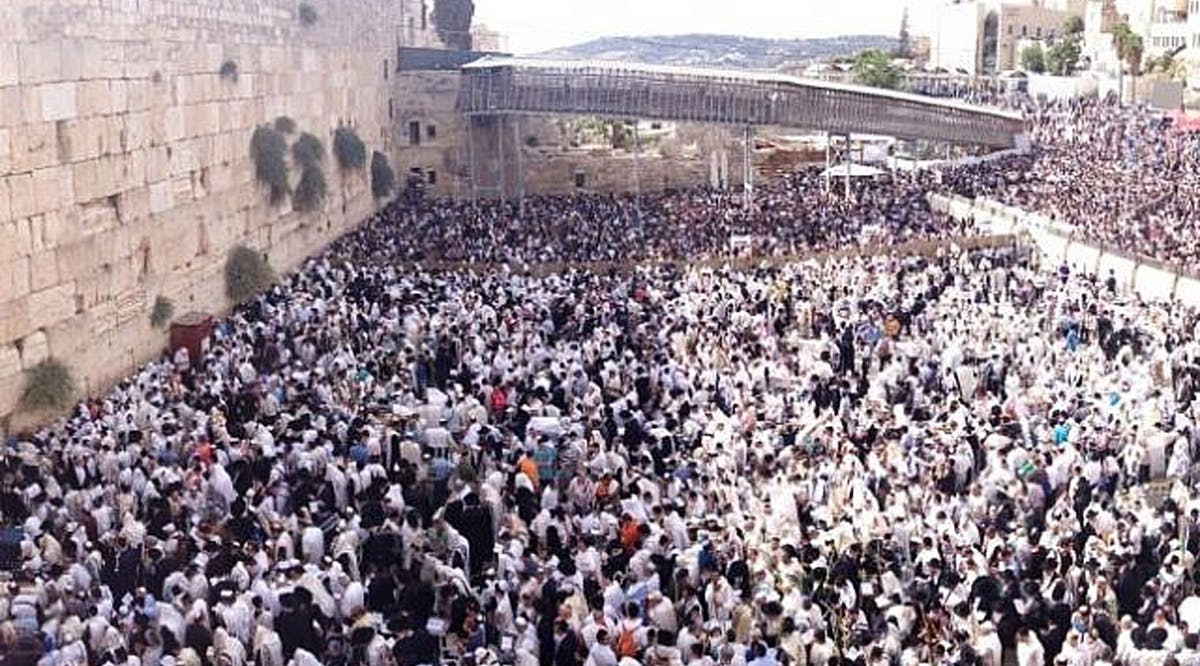 Police on High Alert as Thousands Gather at Western Wall for Priestly Blessing
Police deployed across Jerusalem's Old City on Wednesday, October 12, with tens of thousands of Jewish worshipers attending the traditional priestly blessing event at the Western Wall, amid heightened tensions in the city and across the West Bank.
Traditionally, Jewish pilgrims make their way twice a year to the Western Wall on the intermediate days of the Passover and Sukkot festivals, with crowds of men and women spilling out from the Wall's plaza to surrounding areas.
The ceremony has frequently seen clashes between security forces and Palestinians on the Temple Mount compound, which sits above the Western Wall, who have sometimes thrown stones and objects at the Jewish worshipers below.
The ceremony, which sees male descendants of the Kohanim priestly caste gather to bestow a benediction, involves the raising of hands to perform the blessing, with those conducting the blessing wrapped in prayer shawls.
The event appeared to pass peacefully, but hundreds of police and Border Police remained deployed in the Old City to secure access routes to the Wall, as well as protect the many visitors who were expected to the Old City during the day. Old City roads were shut to traffic.
This year's ceremony comes after two deadly shooting attacks against IDF soldiers in recent days, and during wide scale ongoing manhunts in East Jerusalem and the northern West Bank to find the shooters. (TOI / VFI News)
"God, thank you for shielding the worshipers today from harm and we ask that you give peace to the families and friends of the IDF soldiers who were in the shooting attacks this week."
The articles included in this publication do not necessarily reflect the views or opinions of Vision for Israel. We try to provide accurate reporting on news pertinent to Israel, the Middle East, the diaspora, and Jewish issues around the world—and we hope that you find it both informative and useful for intercessory prayer.