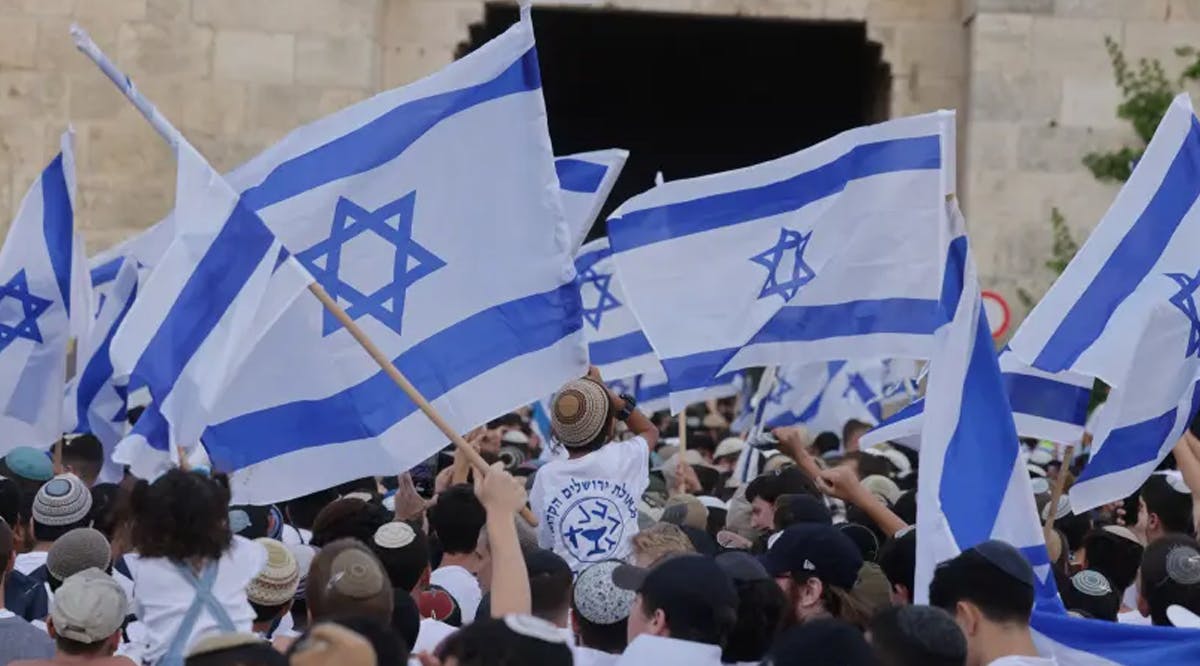 Some 50,000 Israelis Join Jerusalem Day Flag March, Scuffles Erupt in Old City
About 50,000 Israelis gathered in Jerusalem for the Jerusalem Day flag march on Thursday, May 18, with police working throughout the day to break up scuffles that broke out between Jews, Arabs, and journalists.
The march was conducted on its traditional route, departing from the center of the city along King George and Agron streets before splitting into two, with men continuing through Damascus Gate and the Muslim Quarter and women continuing through Jaffa Gate before meeting up again at the Western Wall.
Several Jews carrying Israeli flags headed to the Damascus Gate area ahead of the flag march, with scuffles breaking out in the area between Jews, Arabs, and police. Scuffles between Jews and Muslims were also reported in additional locations throughout the Muslim Quarter of the Old City.
Journalists covering the flag march were attacked by right-wing participants of the march near the Damascus Gate on Thursday afternoon, with participants jeering at them and hitting them with various objects.
At the ending ceremony at the Western Wall, Ben-Gvir stated "How beautiful to see tens of thousands, in the Old City, on the way to the [Western] Wall. How beautiful to see our flags, the blue and white flag. Today we say to Hamas who threatened us, to the terrorists who threatened us, Jerusalem is ours. We will continue to love Jerusalem, we will continue to dream of Jerusalem, we will continue to be and live in Jerusalem."
Prime Minister Benjamin Netanyahu spoke at the government ceremony for Jerusalem Day at Ammunition Hill on Thursday evening, stating "We dealt heavy blows to our aggressors in the Gaza Strip, and I believe that the message was received not only by them, [but] also in other places in our region, who witnessed the impressive operational capabilities of the State of Israel. We changed the equation." (JPost / VFI News)
"God, we thank You for gifting us the land of Israel and Jerusalem and enabling us to persevere and prosper in all areas of life. We are also particularly grateful for being able to defend ourselves against terrorists and for showing the world that we are a powerful nation that can be an important ally, as well as a formidable opponent."
The articles included in this publication do not necessarily reflect the views or opinions of Vision for Israel. We try to provide accurate reporting on news pertinent to Israel, the Middle East, the diaspora, and Jewish issues around the world—and we hope that you find it both informative and useful for intercessory prayer.