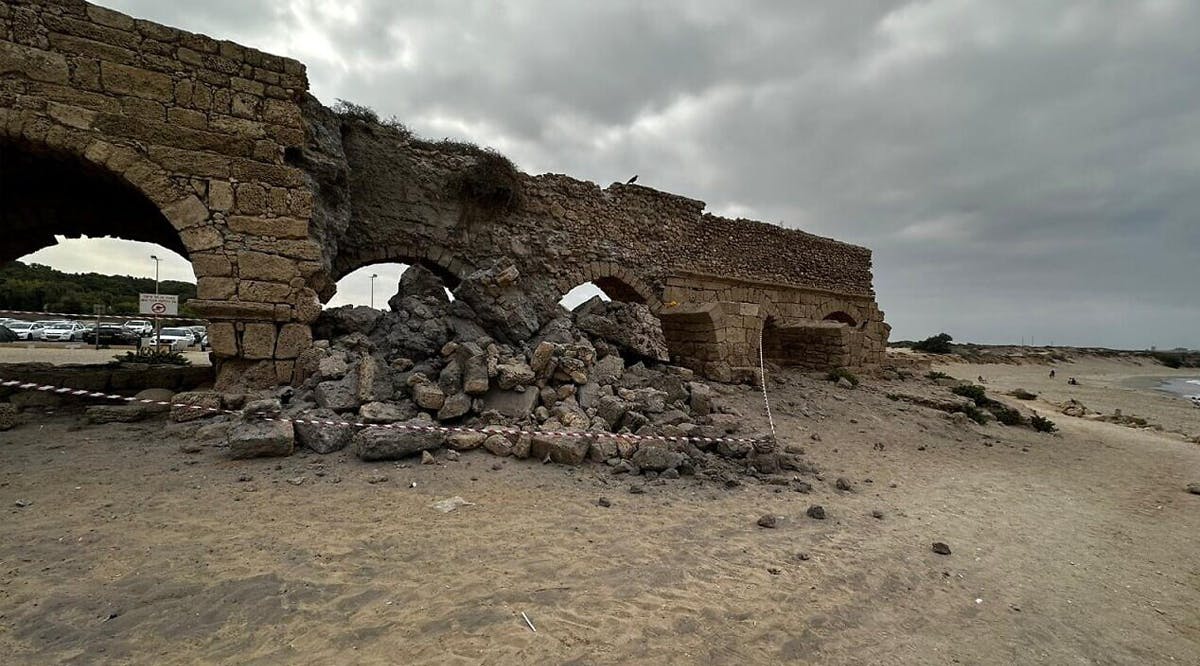 2,000-year-old Arch in Caesarea Aqueduct Collapses; Official: 'We Sounded the Alarm'
A nearly 2,000-year-old arch in Caesarea's famous ancient Roman aqueduct system collapsed on a much-frequented beach early Friday morning, August 18, leading the head of the Israel Antiquities Authority to issue accusations against the bodies responsible for the beach for ignoring repeated warnings and appeals to care of the structure.
IAA inspectors arrived Friday morning at the beach, which is popular with bathers, to assess the damage. The aqueduct was built some 2,000 years ago, in the days of King Herod.
The authority said the section that collapsed was a later addition, built in the time of Emperor Hadrian, some 1,900 years ago. "It's pure luck that bathers weren't killed," said IAA Director-General Eli Eskosido.
"We have been sounding the alarm, we presented documents and plans, we said the situation was catastrophic and there was a real danger of collapse, we met again and again with the owners of the land — we even offered to cover some of the cost of the works, as we understood that this was a disaster waiting to happen."
Ami Shahar, head of the IAA's Conservation Department, added: "At this point, we feel we must inform the public that Acre's 15-kilometer-long aqueduct is in an even more precarious state and faces collapse. (TOI / VFI News)
"The prudent see danger and take refuge, but the simple keep going and pay the penalty." - Proverbs 27:12
The suggestions, opinions, and scripture references made by VFI News writers and editors are based on the best information received.

Want to see more from VFI? Follow us on Facebook: https://www.facebook.com/visionforisrael and hit "like" if you like us!