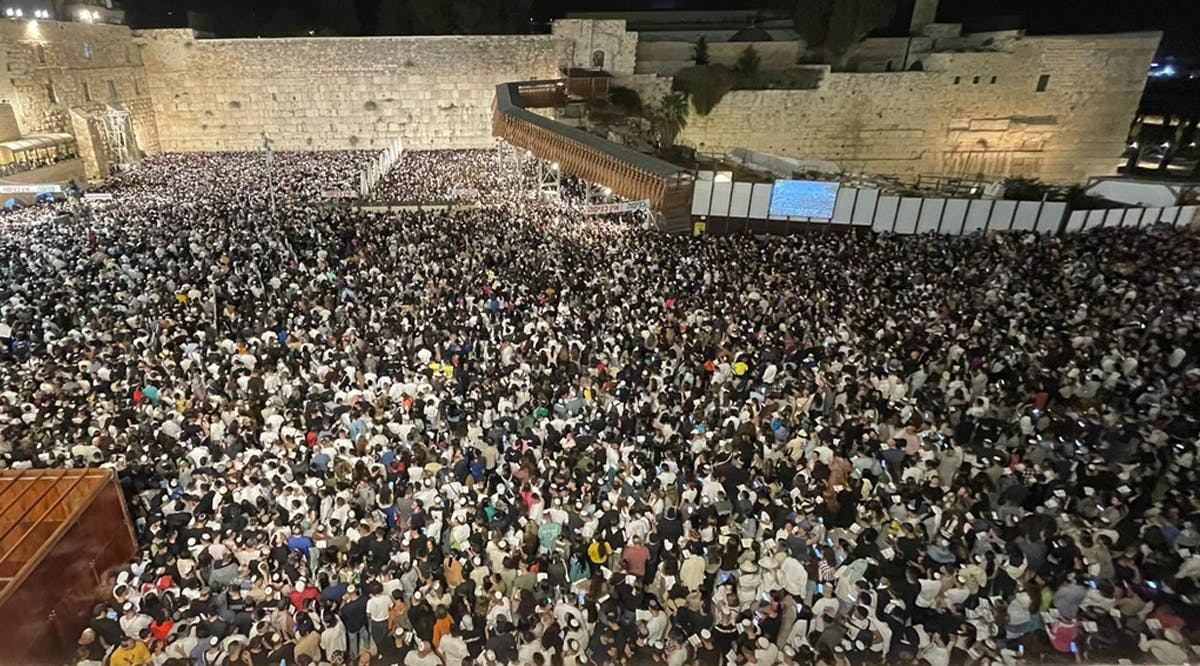 Tens of Thousands Visited Western Wall for Final 'Selichot' Services Before Yom Kippur
Tens of thousands of people visited Jerusalem's Western Wall overnight on Monday, October 3, for the final penitential "selichot" prayer services ahead of the Yom Kippur holiday, which began Tuesday evening.
The "selichot" service, a litany of penitential and supplicant prayers, is held nightly in the period before the Day of Atonement. Sephardi Jews recite it beginning a month before Rosh Hashanah, while Ashkenazi Jews start the Saturday night before Rosh Hashanah.
According to the Western Wall Heritage Foundation, which administers the holy site, pilgrims have paid more than 1 million visits to the Western Wall during this six-week period.
Monday night's service, which was held at the main plaza of the Western Wall, was led by a professional cantor. Israel's two chief rabbis — the Ashkenazi Rabbi David Lau and Sephardi Rabbi Yitzhak Yosef — presided over the service, along with Jerusalem Mayor Moshe Lion and Western Wall Rabbi Shmuel Rabinovitch.
"In this unifying moment, let us pray for peace between one another. Let us pray that we always succeed in seeing the good of our comrades and not what they lack, let us pray that we be connected to one another and joined to one another in unity, fraternity and love," Rabinovitch said in an opening sermon. (TOI / VFI News)
"For your Father knows what you need before you ask him. This, then, is how you should pray: "'Our Father in heaven, hallowed be your name, your kingdom come, your will be done, on earth as it is in heaven"'. - Matthew 6:8-10
The articles included in this publication do not necessarily reflect the views or opinions of Vision for Israel. We try to provide accurate reporting on news pertinent to Israel, the Middle East, the diaspora, and Jewish issues around the world—and we hope that you find it both informative and useful for intercessory prayer.