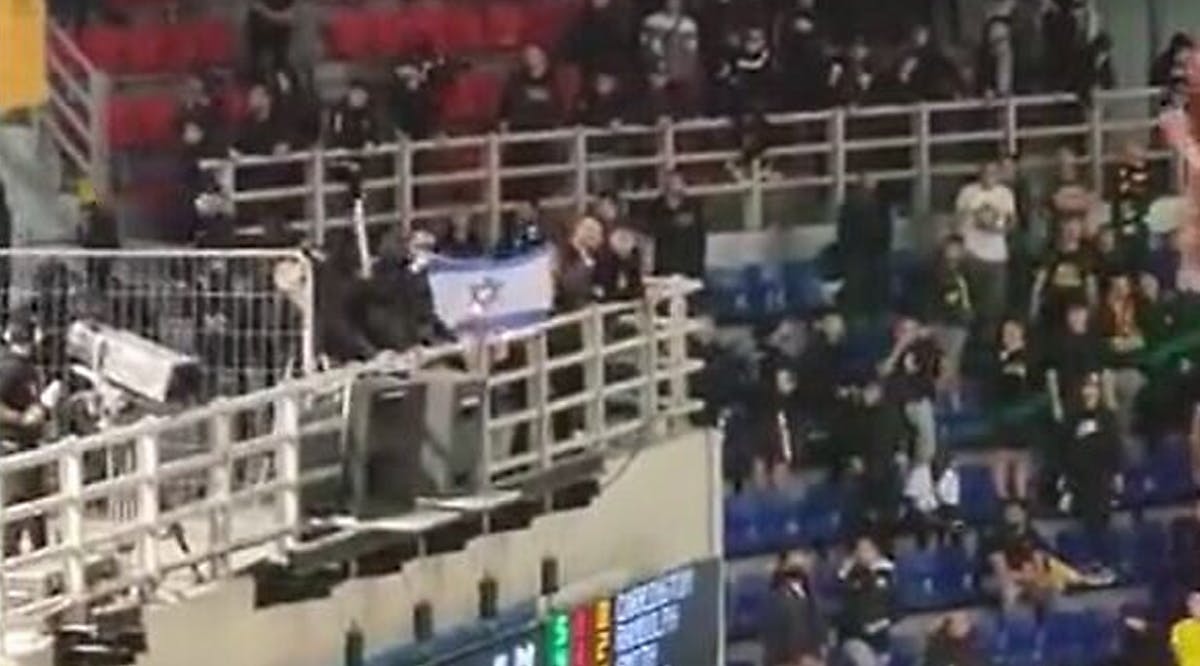 Israeli Basketball Fans Attacked at Hapoel Jerusalem-Athens Game
Chaos erupted at a basketball game between the Hapoel Jerusalem team and A.A.K. Athens Wednesday, April 12, when Greek fans burned an Israeli flag and threw firecrackers at fans of the Israeli team. Several Palestinian Authority flags were seen during the violent incident as well.
The game had to be suspended due to the violence and was resumed after security forces intervened. The Israeli team said in a statement following the incident: "Hapoel sees the difficult events in Athens as nothing less than a terrorist attack on Israeli fans, who came en masse to support their team, as they have been doing for years."
"In view of the events, in the half of the game, we checked all the methods of operation. Taking out the Hapoel fans was an option that was rejected outright due to the fact that Greek fans surrounded the hall, and there was a real danger of a serious attack outside the hall. "
Hapoel Jerusalem said that the team would file a complaint over the incident. Culture and Sports Minister Miki Zohar on Thursday denounced the violent incident by Greek basketball fans as "an antisemitic attack against Jews," as the international basketball federation FIBA announced the opening of disciplinary proceedings.
In a statement, Zohar demanded action against AEK Athens and said he spoke with the head of FIBA, members of Hapoel Jerusalem, and Greece's deputy sports minister, Eleftherios Avgenakis. The statement said Avgenakis relayed a message from the Greek Prime Minister expressing sadness over the incident, adding that a suspect was arrested and that more arrests were possible. (INN / VFI News)
"Those who hate me without reason outnumber the hairs of my head; many are my enemies without cause, those who seek to destroy me. I am forced to restore what I did not steal." - Psalm 69:4