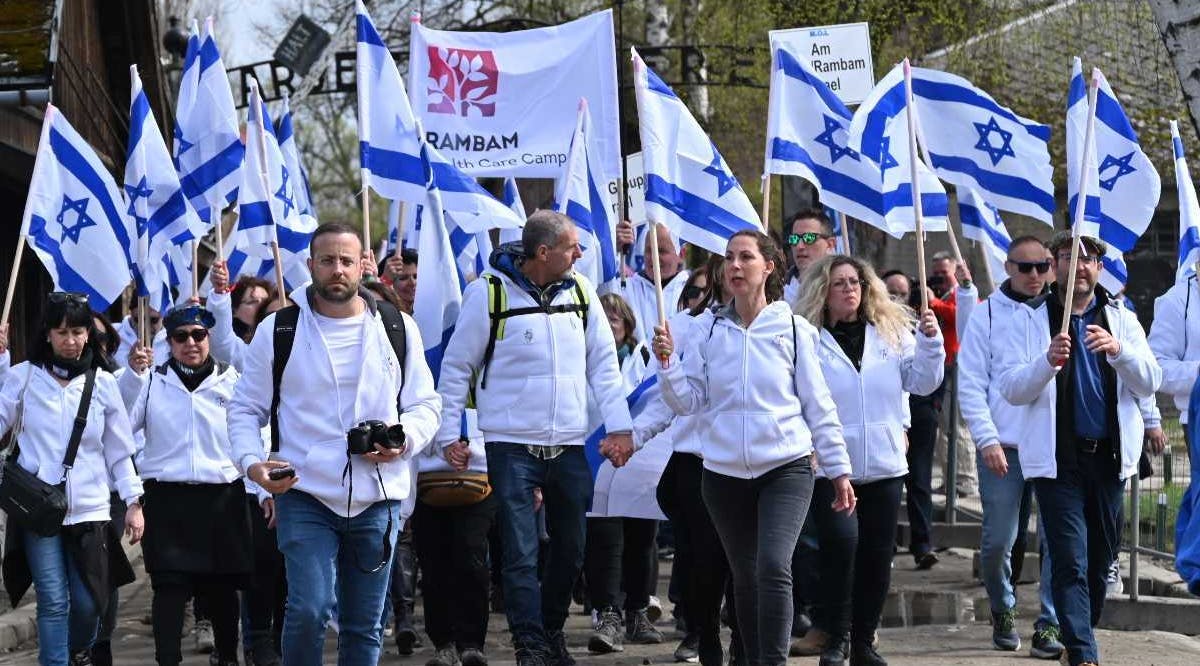 At Auschwitz March of the Living, Displays of Jewish Unity in a Sea of Israeli Flags
As dozens of tourist buses, broadcasting vans and police-led motorcades flood the roads, residents of a small Polish city, Oświęcim, don't even stop to look.
To them, it's a biannual occurrence — on International Holocaust Remembrance Day and on Yom Hashoah. As regular and unfailing as a season change, the influx is taken as a matter of course in this town bordering the grounds of Auschwitz-Birkenau, the labor and death camp that the Nazis built near Krakow.
But it's a deeply moving experience for many of the 9,000 people participating in this year's March of the Living. The commemorative walk across the former death camp's grounds brings delegations from multiple countries and Jewish communities on Israel's national day of mourning for the victims of the genocide.
This year marks the 35th March of the Living and includes 40 Holocaust survivors and their children. Its theme, in a nod to Wednesday's 80th anniversary of the Warsaw Ghetto Uprising, is Holocaust-era heroism.
As in previous years, the first sight at Auschwitz for many delegations as they alighted from their buses was members of a group of Zionist Christians from Korea, who waved Israeli flags, blew shofars and sang Israeli folk songs. After a short walk, visitors encountered the iconic "Arbeit Macht Frei" (German for "Work Sets You Free") metal sign at the entrance to the camp – a bone-chilling testament to how the Nazis used deception and the offer of false hope to ensure their prisoners' obedience right up to their murder.
Also attending the 3-kilometer march through the camp were dozens of dignitaries and VIPs, including Italian President Sergio Mattarella, Israeli Education Minister Yoav Kisch, Chief Ashkenazi Rabbi David Lau, United States Ambassador to Israel Tom Nides and his predecessor, David Friedman and Ahmed Al Mansoori who founded the UAE's first Holocaust exhibition in Dubai. Young people from Morocco and Bahrain also participated in the March of the Living. (TOI / VFI News)
"And over all these virtues put on love, which binds them all together in perfect unity." - Colossians 3:14