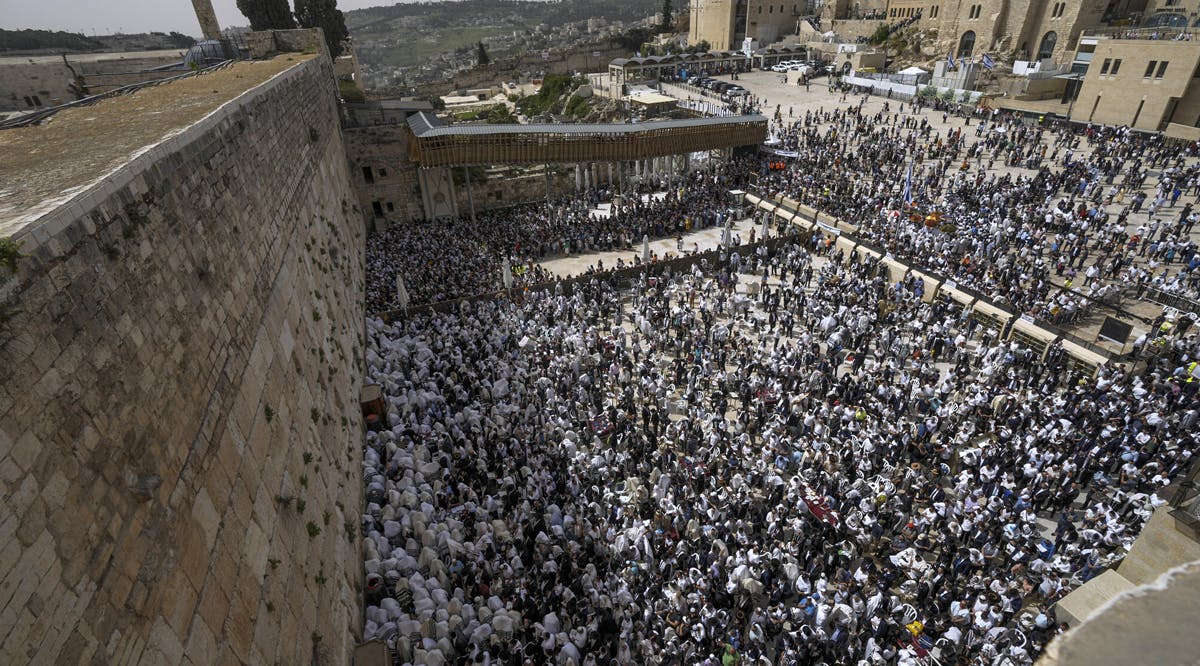 Western Wall Passover Prayer Event Ends Peacefully, with Relatively Low Turnout
Jerusalem was on edge Monday morning, April 18, as a prayer ceremony went ahead at the Western Wall for the Passover holiday, with authorities still facing the ongoing threat of Palestinian violence around the Jewish holy site.
The semi-annual priestly blessing event, known in Hebrew as "Birkat Hacohanim," was held without incident.
The ceremony usually draws tens of thousands to the Western Wall plaza. However, turnout appeared to be quite low on Monday compared to previous years, amid heightened tensions in the capital.
Several Hebrew media reports estimated that attendance was in the low thousands.
This year's event was split into two sessions, with the first on Monday and the second on Wednesday, to reduce crowding for security reasons. A stampede at an overcrowded religious event at Mount Meron in northern Israel killed 45 people last year in Israel's worst-ever peacetime disaster.
Around 2,500 police officers were securing the area around the time of the prayers.
Jewish pilgrims make their way to the ceremony on the intermediate days of the Passover and Sukkot festivals, with crowds spilling out from the wall's plaza into the surrounding areas.
The ceremony, which sees male descendants of the Kohanim priestly caste gather to bestow a benediction, involves the raising of hands to perform the blessing, with those conducting the blessing wrapped in prayer shawls.
Pictures from Monday's prayer session showed some worshipers covered with Ukrainian flags amid the Russian offensive in the eastern European country. (TOI / VFI News)
Observe the month of Aviv and celebrate the Passover of the Lord your God, because in the month of Aviv he brought you out of Egypt by night. - Deut. 16:1
The suggestions, opinions, and scripture references made by VFI News writers and editors are based on the best information received.

Want to see more from VFI? Follow us on Facebook! Our official Facebook name is Vision for Israel. Follow us there and please hit "like" if you like us.