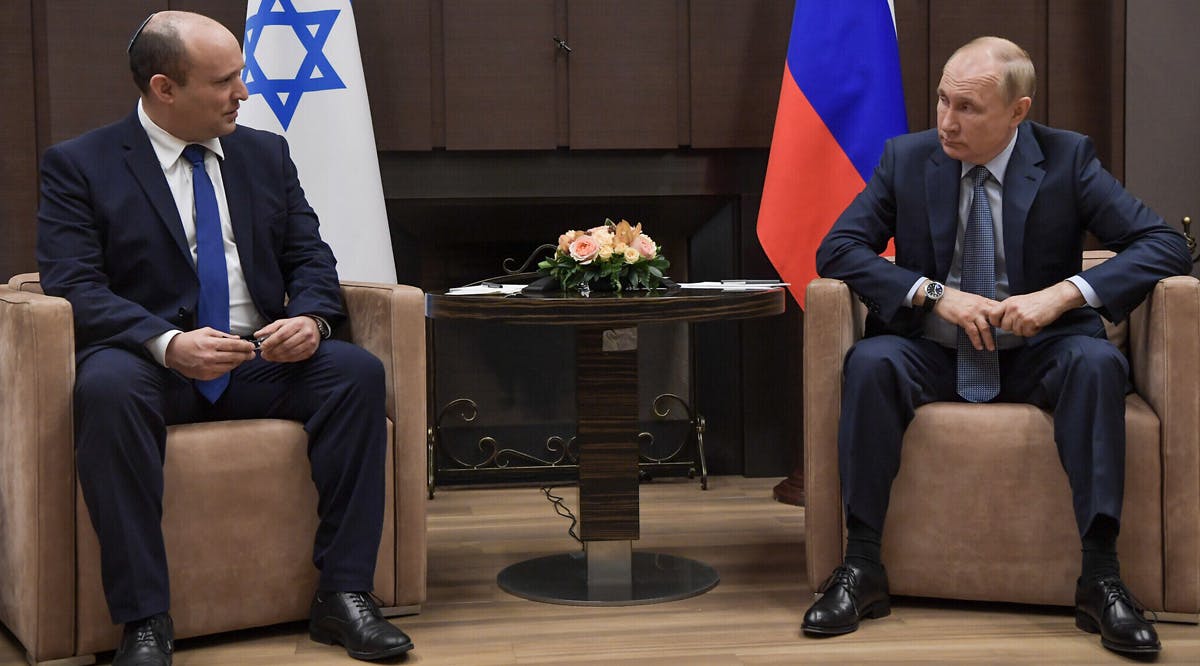 Bennett Found Putin to be 'Rational' During Meeting
Prime Minister Naftali Bennett reportedly came away from his meeting with Vladimir Putin with the impression that the Russian president was in a rational state of mind, bucking assessments that he may have become unhinged.
Hours after returning, Prime Minister Naftali Bennett said Israel had a moral obligation to work to broker peace talks between Russia and Ukraine — even if the likelihood for progress was slim. "I returned from Moscow and Berlin a few hours ago," Bennett said at the start of the weekly cabinet meeting on Sunday, March 6. "I went there to assist the dialogue between all of the sides, of course with the blessing and encouragement of all players."
"We will continue to assist as needed," Bennett said at the cabinet meeting. "Even if the chance is not great — as soon as there is even a small opening, and we have access to all sides and the capability — I see this as our moral obligation to make every effort."
Bennett was being cautious with Putin, due to the Russian leader "not being interested in a ceasefire or humanitarian corridors."
American officials are worried Putin is using Bennett in order to regain international legitimacy. However, sources close to Bennett said that the US encouraged him to meet Putin, seeking to take advantage of Israel's good relations with both sides to end the fighting. Bennett reportedly spoke with White House National Security Adviser Jake Sullivan on Friday, March 4, ahead of the meeting, and received the go-ahead.
Putin made it clear to Bennett that he is unwilling to end hostilities until Ukraine demilitarizes, saying that Moscow's position is: "until there is dialogue, hostilities [will continue]."
Russia conveyed to Israel via diplomatic channels that it is deliberately not targeting Ukrainian President Volodymyr Zelensky, even though it knows where he is, reportedly with the aim of capturing him alive. (TOI / VFI News)
If possible, so far as it depends on you, live peaceably with all. - Romans 12:18