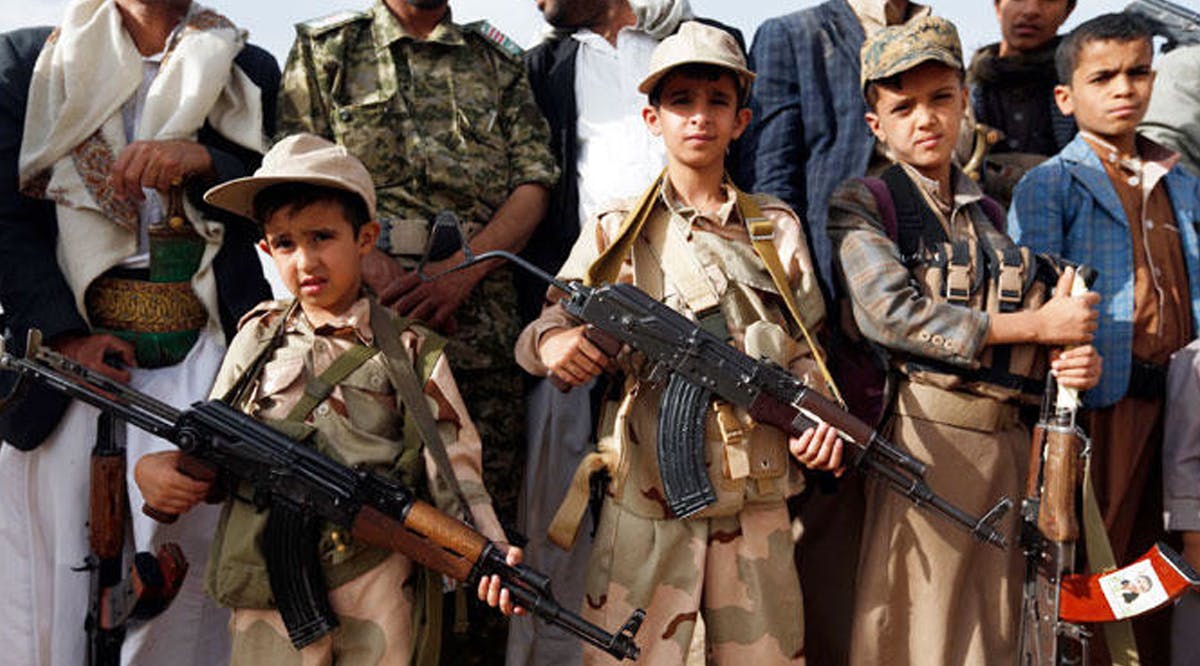 Nearly 2,000 Children Recruited by Houthi Rebels Dead
Thousands of children recruited and taught to fight by Yemen's Houthi rebels have been reported dead as a result of ongoing fighting.
A four-member panel of experts released a report to the United Nations Security Council detailing that almost 2,000 children had been reported dead between January 2020 and May 2021, according to the Associated Press. Lists obtained by the panel showed that 1,406 children died fighting during 2020, and 562 died between January and May of 2021.
"They were aged between 10 and 17 years old," the panel said. A large portion of the children had been killed in places such as Amran, Dhamar, Hajjah, Ibb, Saada, and Sanaa.
The panel said that they had investigated several schools and mosques where Houthi rebels were running summer camps. At these camps, children "as young as 7" were taught how to "clean weapons and evade rockets," along with learning Houthi ideology.
"The children are instructed to shout the Houthi slogan 'death to America, death to Israel, curse the Jews, victory to Islam,'" said the panel.
Several cases were discovered by the panel in which children had either been promised false rewards, denied aid, or sexually violated. Ten cases involved children taken to fight after being told they would be enrolled in courses, nine involved children and teachers denied humanitarian aid based on whether they "participated in fighting" or "taught the Houthi curriculum," and one involved an act of sexual violence on a child during training.
The Yemeni civil war has progressed into a proxy war between Iran and Saudi Arabia. Neighboring Arab states have intervened in the conflict weeks after Houthis seized Yemen's capital city of Sanaa.
Houthi rebels have recently been firing ballistic missiles toward the United Arab Emirates, with two intercepted on Jan. 24, a week after rebels fired a drone strike that left at least three people dead in Abu Dhabi, the capital of the UAE. (WE / VFI News)
"God, we ask that you protect all children."
The articles included in this publication do not necessarily reflect the views or opinions of Vision for Israel. We try to provide accurate reporting on news pertinent to Israel, the Middle East, the diaspora, and Jewish issues around the world—and we hope that you find it both informative and useful for intercessory prayer.