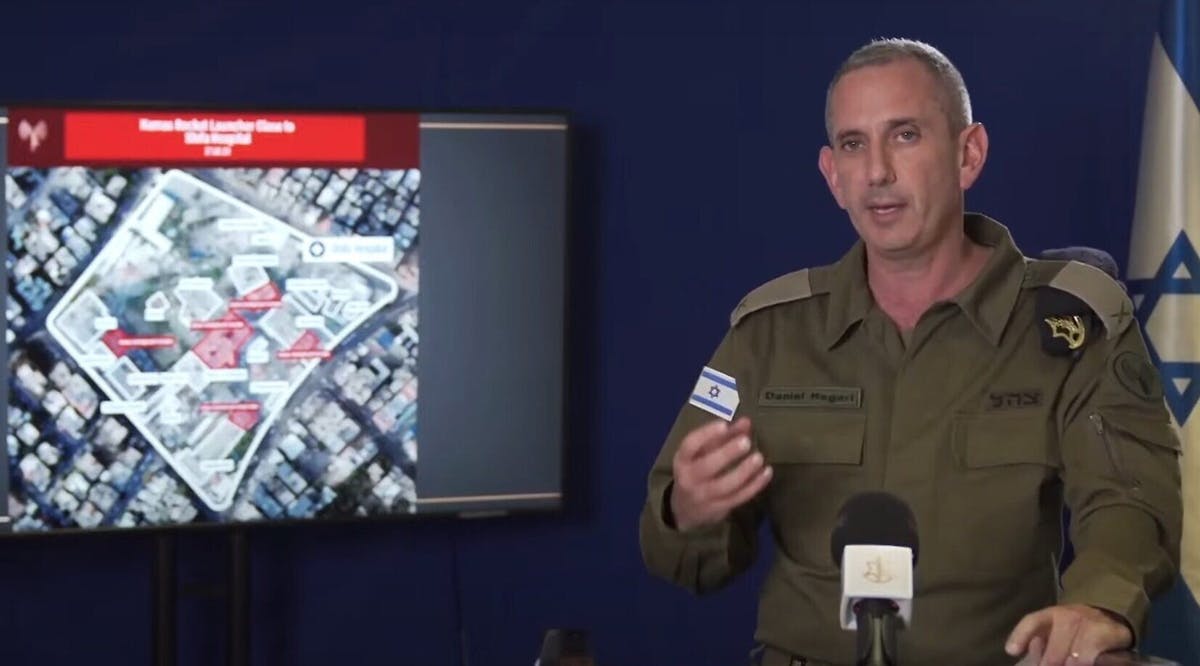 Hamas's Main Operations Base Is Under Shifa Hospital in Gaza City, Says IDF
The Israel Defense Forces on Friday, October 27, said the Hamas terror group's main base of operations is under the largest hospital in Gaza City, the Al-Shifa Hospital, providing visuals and intercepted audio as evidence of the terror organization's activities.
In a briefing for reporters of international media outlets, IDF Spokesman Rear Adm. Daniel Hagari said Hamas has several underground complexes under Shifa that are used by the terror group's leaders to direct attacks against Israel.
Hagari said Israel has intelligence that there are several tunnels leading to the underground base from outside the hospital so that Hamas officials do not need to enter the hospital to reach it. But Hagari added that there is also an entrance to the underground complex from within one of the wards.
"Right now, terrorists move freely in Shifa Hospital, and other hospitals in Gaza," Hagari said. The hospital's energy infrastructure is also used by Hamas's underground base, Hagari said, accusing the terror group of using the hospital and its occupants — with 1,500 beds and some 4,000 staff — as human shields.
The information on Hamas's use of the hospital is based on a wide range of intelligence sources collected by the Military Intelligence Directorate and Shin Bet security agency. (TOI / VFI News)
"The sacrifice of the wicked is detestable— how much more so when brought with evil intent!" - Proverbs 21:27