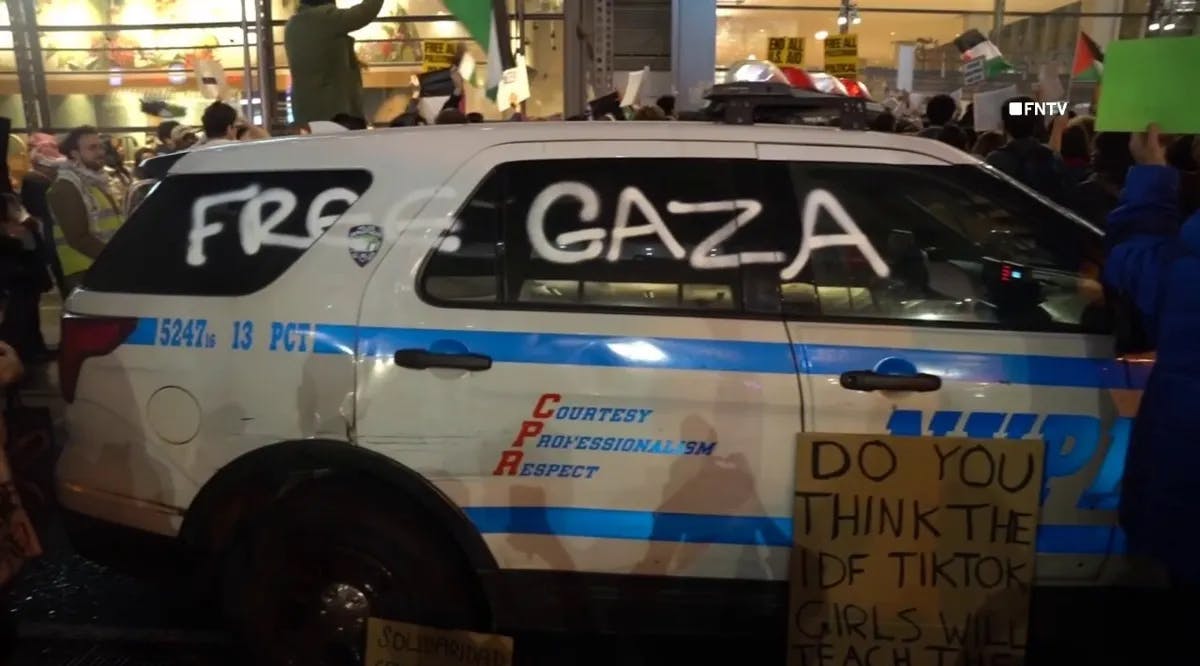 Pro-Palestinian Rioters Vandalize NYPD Cruiser During Anti-Israel Protests
Pro-Palestinian rioters vandalized a police cruiser in New York City on Thursday, November 9, as they voiced opposition to Israel amid calls for an immediate cease-fire.
Around 5 p.m., a group occupied the lobby of a prominent news outlet building, and some spray-painted "Free Gaza" on an NYPD vehicle outside the building. On another side of the cruiser, "KKK" and "IDF," referring to the Israel Defense Forces, were also spray-painted. A smoke bomb was also reportedly set off nearby.
A group calling themselves the "Writers Bloc" then read off the names of Palestinians skilled in Gaza, including at least 36 journalists allegedly killed since the war began. They also accused the media of being complicit in "laundering genocide."
Earlier, on Wednesday night, when the Museum of Tolerance in Los Angeles screened footage of Hamas atrocities from their October 7 attack on Israel, violent clashes also broke out as anti-Israel activists moved in to "disrupt" demonstrations by Jewish supporters of Israel, prompting police to respond. (FN / VFI News)
"Those who hate me without reason outnumber the hairs of my head; many are my enemies without cause, those who seek to destroy me. I am forced to restore what I did not steal." - Psalm 69:4