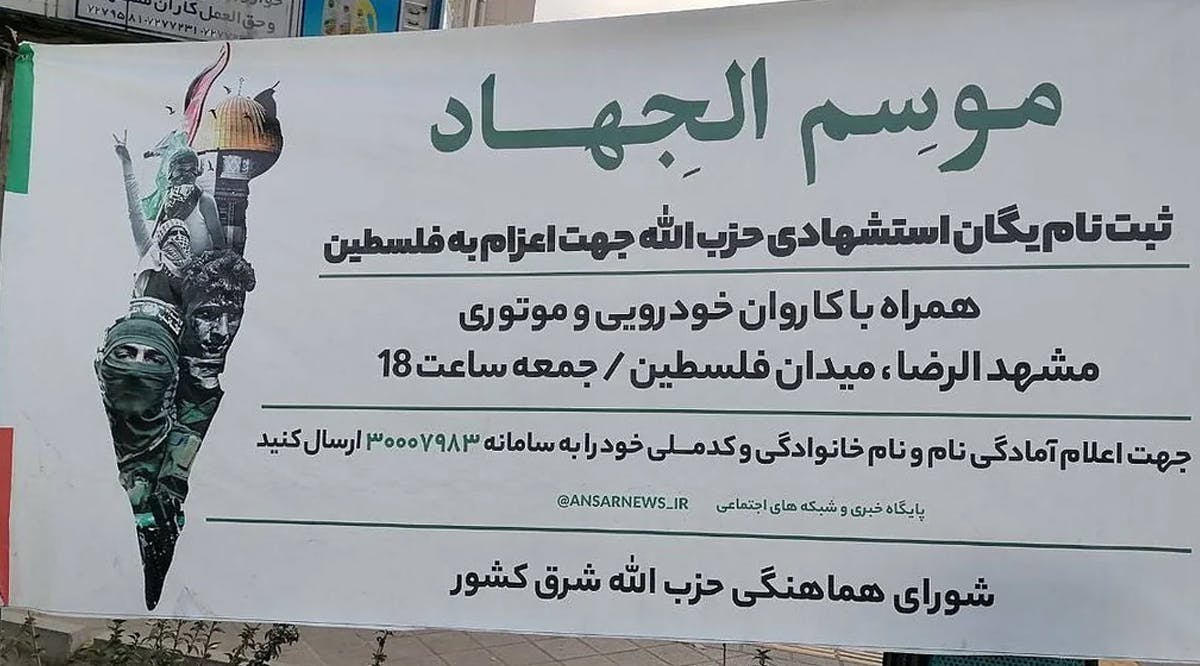 Iranian Group Puts up Recruitment Posters for Suicide Bombers Willing to Attack Targets in Israel
A hard-line Iranian group has been actively recruiting potential suicide bombers for operations in Israel, images seen by British media reveal.
The group responsible for this recruitment drive, Hezbollah, different from the Lebanese militant group with the same name, has initiated a campaign in the southeastern Iranian city of Mashhad, a significant place in Shia Islam.
Posters featuring calls for "martyrdom" have appeared on the streets of Mashhad, imploring residents to submit their personal details for consideration. These posters declare that "It's time for Jihad," and seek individuals to join a "special battalion of martyr seekers for Palestine."
One poster, shared by a Telegram channel close to the group, shows triumphant jihadists arriving at Jerusalem's Al-Aqsa Mosque, one of Islam's holiest sites after the defeat of Israel while waving Iran's flag. "Liberating" Al-Aqsa Mosque has been one of the fundamental slogans of the Islamic Republic's officials over the past four decades.
The group has gone as far as providing potential recruits with the option to choose between using motorcycles or cars for their deployments to Israel.
Tawab, a resident of Mashhad, expressed his concern about the situation. In a telephone interview with British media he stated, "I have seen these posters in several places in the city, but no one seems willing to take such a perilous path. It makes the face of the city scary." (DM / VFI News)
"God, we pray that You protect us from the malevolent plans of those who wish to harm Israel. We ask that You assist our military personnel in efficiently defending our people and thwarting any potential terrorist attack. We ask that You will stop any evil attack planned by our enemies before they can execute it. We also pray that the terrorists will be punished for the indescribable suffering they have already caused."
The articles included in this publication do not necessarily reflect the views or opinions of Vision for Israel. We try to provide accurate reporting on news pertinent to Israel, the Middle East, the diaspora, and Jewish issues around the world—and we hope that you find it both informative and useful for intercessory prayer.