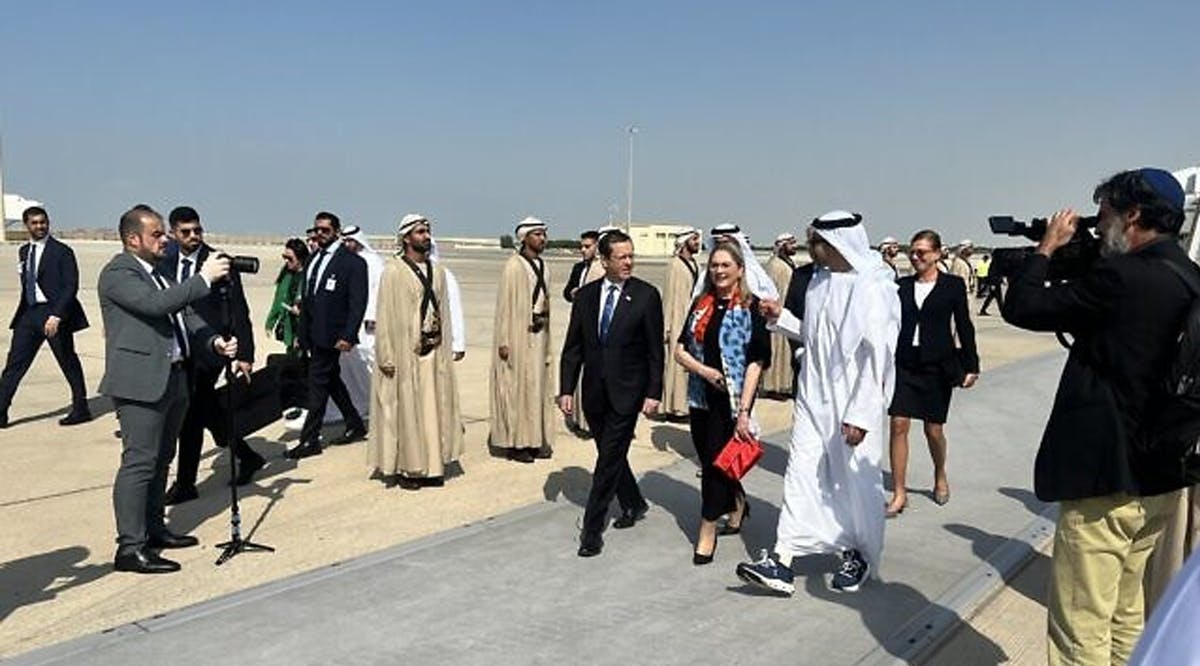 Herzog Arrives in the UAE after Wrapping up Visit to Bahrain
President Isaac Herzog left Bahrain on Monday morning, December 5, and landed in the United Arab Emirates for the second leg of his trip to meet with Israel's allies in the Gulf.
Herzog was greeted at the airport in Abu Dhabi by UAE Foreign Minister Abdullah Bin Zayed. The Israeli president was set to meet with Mohammed bin Zayed Al Nahyan, the ruler of Abu Dhabi, later on Monday.
He was also set to attend the Abu Dhabi Space Debate, a forum on space exploration policy that also features Indian Prime Minister Narendra Modi. As president, Herzog already visited the UAE earlier this year to participate in the Expo 2020 Dubai.
The president's trip to Bahrain, the first by an Israeli head of state to the island kingdom, centered on the unrealized business potential between the two nations. Iran, a threat that occupies the minds of Israeli and Bahraini officials, was not mentioned by Herzog, Bahrain's King Hamad, or Foreign Minister Abdul Latef Al-Zayani in their public statements. Instead, they hammered home the importance of upgrading the economic ties between the nations, which signed the Abraham Accords in 2020. (TOI / VFI News)
"He holds success in store for the upright, He is a shield to those whose walk is blameless." - Proverbs 2:7
The suggestions, opinions, and scripture references made by VFI News writers and editors are based on the best information received.

Want to see more from VFI? Follow us on Facebook! Our official Facebook name is Vision for Israel. Follow us there and please hit "like" if you like us.