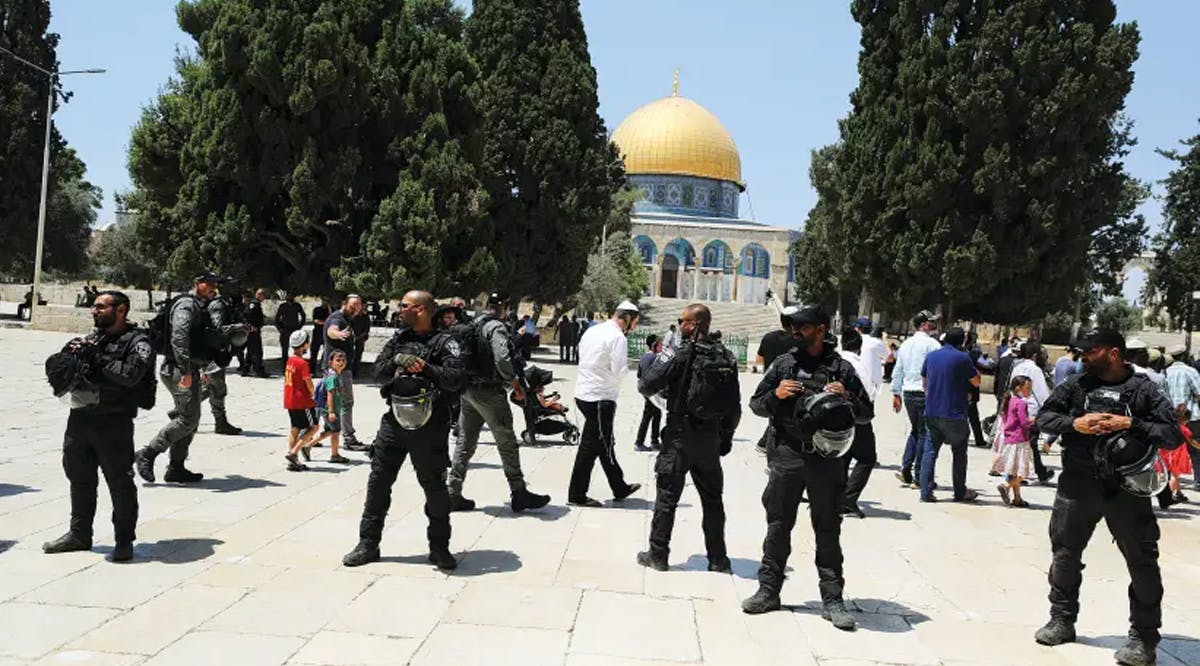 Hamas Declares Victory after Court Reinstates Ban Against Jews Praying on Temple Mount
Jews barely got a chance to act on the court ruling allowing them to pray silently at their holiest site before the court reversed its decision in what Hamas declared a victory that could be credited to their missile attacks.
The story began when last Wednesday, October 6, when Justice Bilha Yahalom of Jerusalem's Magistrate Court accepted an appeal by Temple Mount activist Rabbi Aryeh Lipo against the police ban on prayer on the Temple Mount. Lippo had been banned from the site for 15 days by the Israeli police after he was caught praying silently during a visit on Yom Kippur.
Israel's High Court has ruled that Jewish prayer at the site is legally protected but the police may impose restrictions based on security considerations. The Israeli police appealed the decision.
"The State of Israel advocates freedom of worship and prayer for all, however, in view of the security implications, the status quo must be upheld that the prayer of Jews on the Temple Mount will take place next to the Western Wall and the prayer of Muslims will take place in al-Haram al-Sharif," Public Security Minister Omer Bar-Lev said on Friday, using the Arabic name for the Temple Mount.
The ruling was decried by the Palestinians.
The Waqf, the custodial authority which managed the edifices on the Temple Mount, called the ruling a "flagrant violation" of the compound's sanctity and a "clear provocation" for Muslims worldwide. "This decision also has no legitimacy because we do not recognize Israeli law on al-Aqsa," mosque director Sheikh Omar al-Kiswani told AFP.
Hamas, the ruling party in Gaza recognized by many countries around the world as a terrorist organization, called the move a "blatant aggression against the Al-Aqsa Mosque, and a clear declaration of a war that goes beyond political rights to an aggression against religion and sanctities". The group said in a statement that the "resistance is ready and prepared to repel aggression and defend rights."
On Friday, October 8, thousands of Palestinians arrived at the Temple Mount for morning prayers and took the opportunity to hold a massive protest. The same day, the court accepted the police's appeal.
Aryeh Romanov, the judge ruling over the case at the Jerusalem District Court, stated on Friday that the rules on the Temple Mount forbid "religious/ritual activities having external, visible characteristics," stressing that the fact that the police officer noticed Lipo praying proved that his prayer was visible and therefore forbidden.
"God, we ask that You free Your people from persecution."