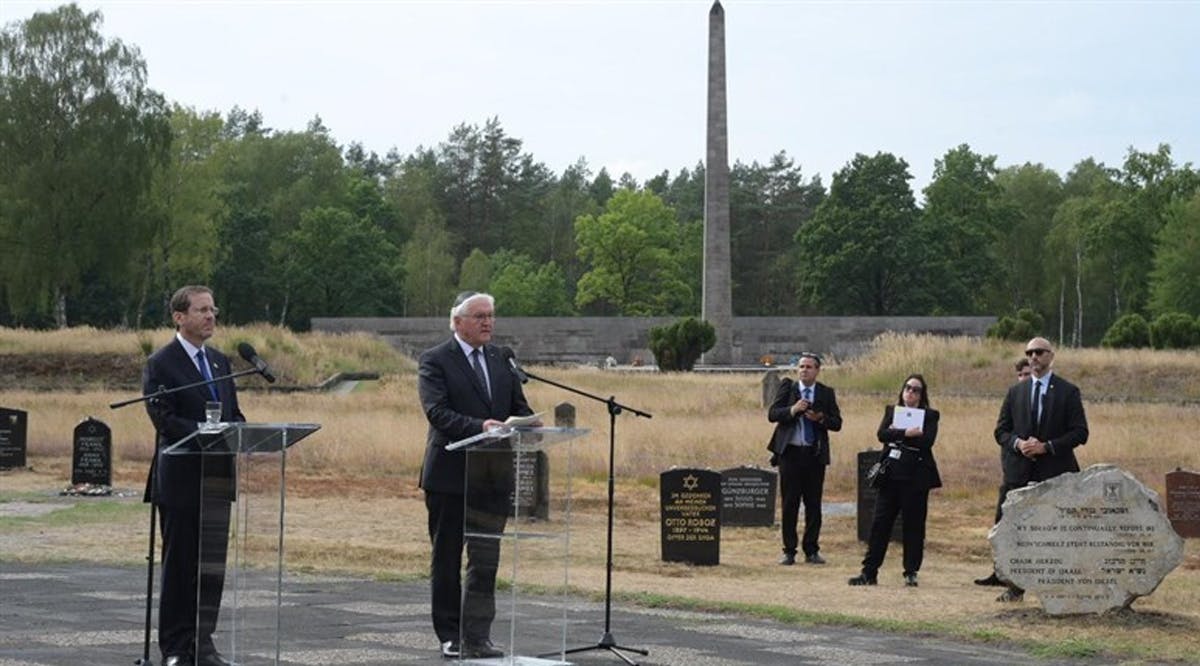 Germany: President Herzog Visits the Concentration Camp His Father Helped Liberate
President Isaac Herzog visited the site of the Bergen-Belsen Concentration Camp on Tuesday, September 6, accompanied by German President Frank-Walter Steinmeier and the Minister-President of Saxony, Michael Kretschmer.
At the start of their visit, President Herzog and President Steinmeier laid a wreath at the memorial, after which the presidents walked to the Jewish memorial, originally erected by the camp's survivors after the war. President Herzog recited the Kaddish prayer in memory of the victims of the Holocaust, like his father, the Sixth President of Israel, Chaim Herzog, who visited Bergen-Belsen during his state visit to Germany in 1987, as the first Israeli head of state to visit there.
On 15 April 1945, near the end of the Second World War, British forces liberated the Bergen-Belsen Concentration Camp from the Nazis. Chaim Herzog, then a British Army officer, participated in the liberation efforts.
President Isaac Herzog said: "When the camp was liberated, a military convoy rolled into the site headed by an officer, who stood on a wooden crate and shouted in Yiddish, in front of hundreds of people, hundreds of human skeletons: 'Yidden! Yidden! Es leben noch Yidden!' In English: 'Jews! There are still living Jews!' There are still Jews in the world! That Jewish officer was my father, Chaim Herzog, of blessed memory, later President of Israel." (INN/ VFI News)
"Follow justice and justice alone, so that you may live and possess the land the Lord your God is giving you." - Deuteronomy 16:20